Updated July 19, 2023
A credit card authorization form allows a third party to make a payment by using a person's written consent and credit card information. This can either be for a one-time charge or recurring on a regular basis. This is a common procedure when an individual authorizes a subscription that renews monthly, such as a gym membership, Netflix subscription, and more.
Main Types (4)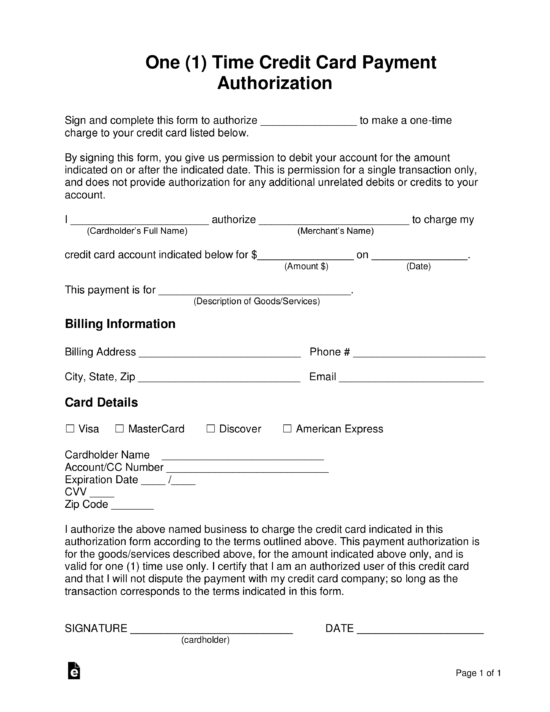 One-Time Credit Card Authorization – A general form for a charge that will be made for a single payment on a credit card

Download: PDF, MS Word, OpenDocument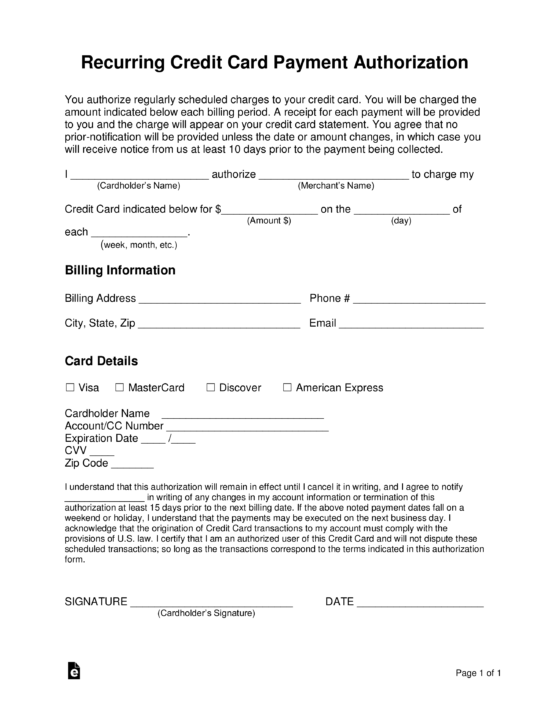 Recurring Credit Card Authorization – A form that allows using an individual's or business' credit card for a charge that will repeat on a weekly, monthly, or annual basis

Download: PDF, MS Word, OpenDocument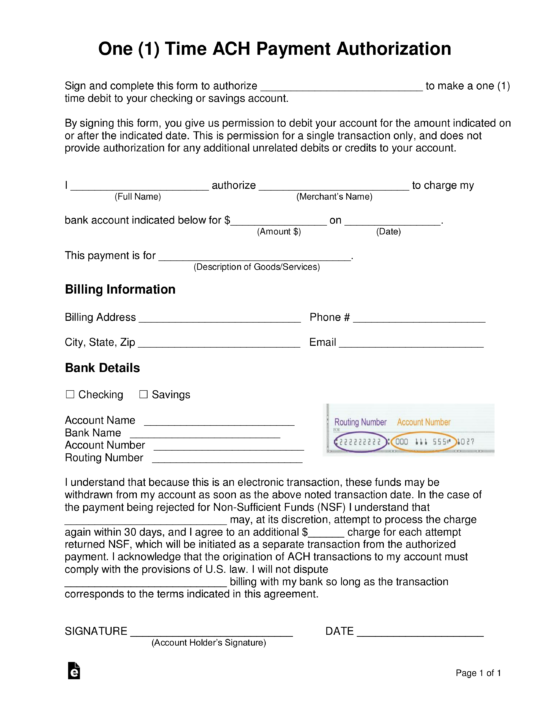 One-Time ACH Authorization – Used to make a one-time payment via bank account (checking or savings)
Download: PDF, MS Word, OpenDocument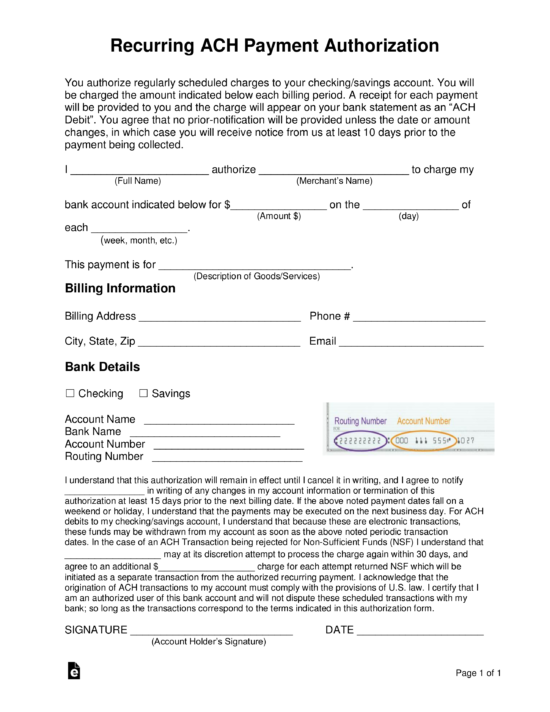 Recurring ACH Authorization – Used to make recurring payments via bank account (checking or savings)
Download: PDF, MS Word, OpenDocument
Other Types (2)
What is a Credit Card Authorization Form?
A credit card authorization form serves two primary purposes: First, it gives a business the authority to charge a credit card without the buyer being physically present. Second, it prevents unwanted and fraudulent chargebacks that can hurt the relationship between a business and a merchant processor. If a business is getting too many chargebacks, its merchant provider may eventually cease to do business with them.
How to Accept a Payment
Use the following instructions to charge a credit card or bank account by obtaining the customer's credentials via a paper form.
Step 1 – Point of Sale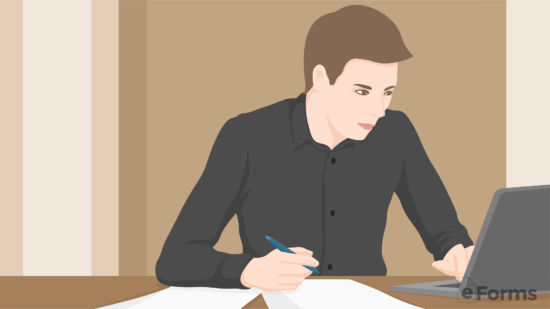 When a buyer and seller have come to terms for the purchase of goods or services, the consent may begin to be filled in. The following information will be required by the processor:
Credit/Debit Card
Cardholder's Name
16-Digit Number
Expiration Date
Billing Address
Bank Account (ACH)
Account Holder's Name
Address (of the Account Holder)
Routing Number
Account Number
Step 2 – One-Time Charge or Recurring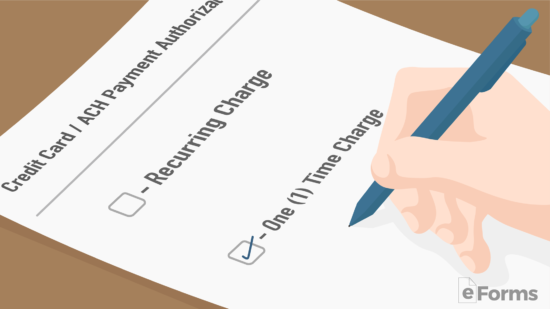 Enter whether the account will be charged for a one-time payment or continuing on a recurring basis.
Step 3 – Cardholder Signs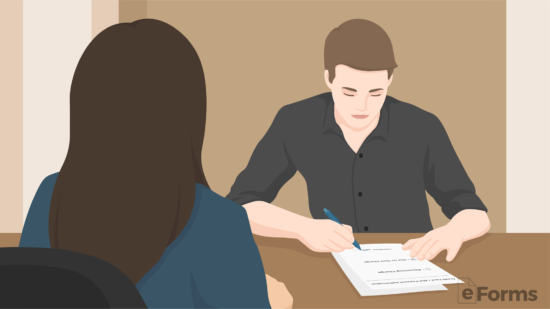 The cardholder must sign the authorization form. If being used for hotel room authorization, the form may be signed by the cardholder and faxed to the lodging establishment.
Chargebacks and Disputes
Due to how easy it is to call a bank and report a fraudulent charge, there needs to be a way for merchants to minimize losses in order to protect their business. Even though businesses can dispute a chargeback, it still has a negative effect. Most businesses are allowed a dispute range of no more than 1% to 3%. If a business has a dispute ratio higher than the allowed rate, its payment processor will likely suspect the business to be practicing shady ethics.
To keep the number of disputes down, many businesses will take the loss and refund the customer, which can be highly unfair to the business. Any business that sees high or unfair disputes should adopt a credit card authorization form for customers to sign anytime they can.
Authorization Hold ($1)
A credit card authorization hold works a bit differently than an authorization form in that it temporarily draws funds from the customer's account as a pending transaction and ensures that the customer has the funds in their account to complete the purchase. The authorization hold can range from $1 to the full amount, depending on the situation.
This is a common practice that gas stations and hotels widely use to prevent fraud. With websites such as Booking.com, they allow customers to reserve a hotel with no money down but after a specified date, the customer can no longer cancel without being charged for partial payment or the entire amount, which is also another example of an authorization hold.
Sample
Download: PDF, MS Word, OpenDocument
CREDIT CARD AUTHORIZATION FORM
Credit Card Details
Card Type: ☐ Visa ☐ MasterCard ☐ American Express ☐ Discover ☐ [OTHER]
Cardholder Name: [FULL NAME]
Credit Card Number: [XXXX-XXXX-XXXX-XXXX]
Security Code (CVV): [XXX]
Expiration Date: [MM/YYYY]
Billing Zip Code: [ZIP CODE]
Consent
I, the undersigned cardholder, authorize the merchant known as [MERCHANT'S NAME] to charge my credit card for purchases related to goods and services. I agree that my information may be saved by the merchant for future payments and understand that this can be revoked at any time with request.
Cardholder's Signature: ________________________ Date: _______________