Updated June 07, 2023
Hawaii deeds come in different forms depending on the circumstances and need for the transfer of real estate in Hawaii. Deeds are used to convey property from a seller to a buyer, otherwise known as a grantor and grantee and they are recorded at the Hawaii Bureau of Conveyances. Deeds include the names of the buyer (grantee) and seller (grantor) and a legal description of the property. The deeds also must be acknowledged by a notary public before they are recorded. In order to better understand what you are buying, it is recommended that you have a thorough title or property search completed in order to ascertain any issues with the title.
Deed Types (4)
---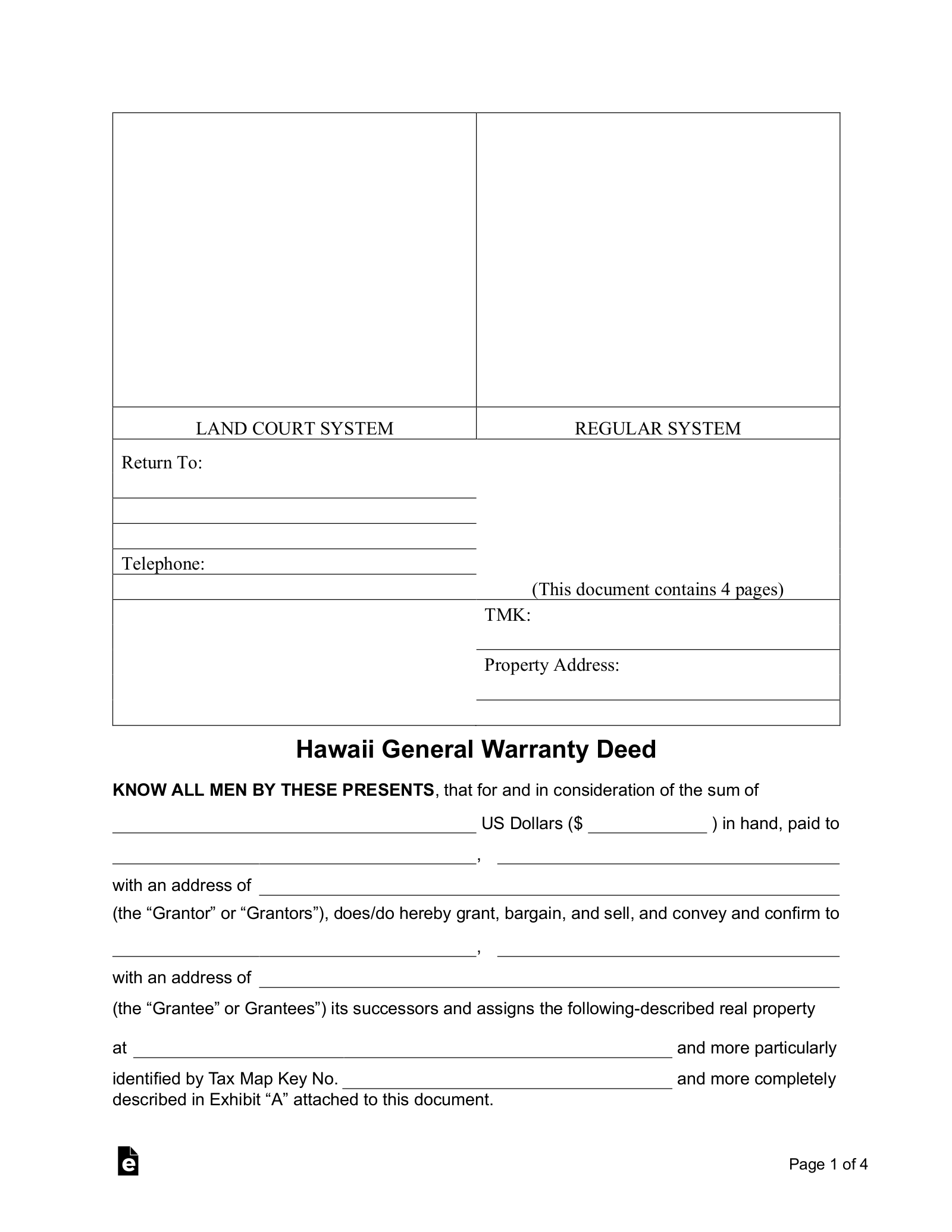 General Warranty – Provides for a real property transfer with a guarantee by the seller that the property they are transferring is clear of any title issues.
Download: PDF, MS Word, Open Document
---
Quit Claim – Provides no guarantee from the seller. That means that the seller is merely transferring the interest that he has, if any.
Download: PDF, MS Word, Open Document
---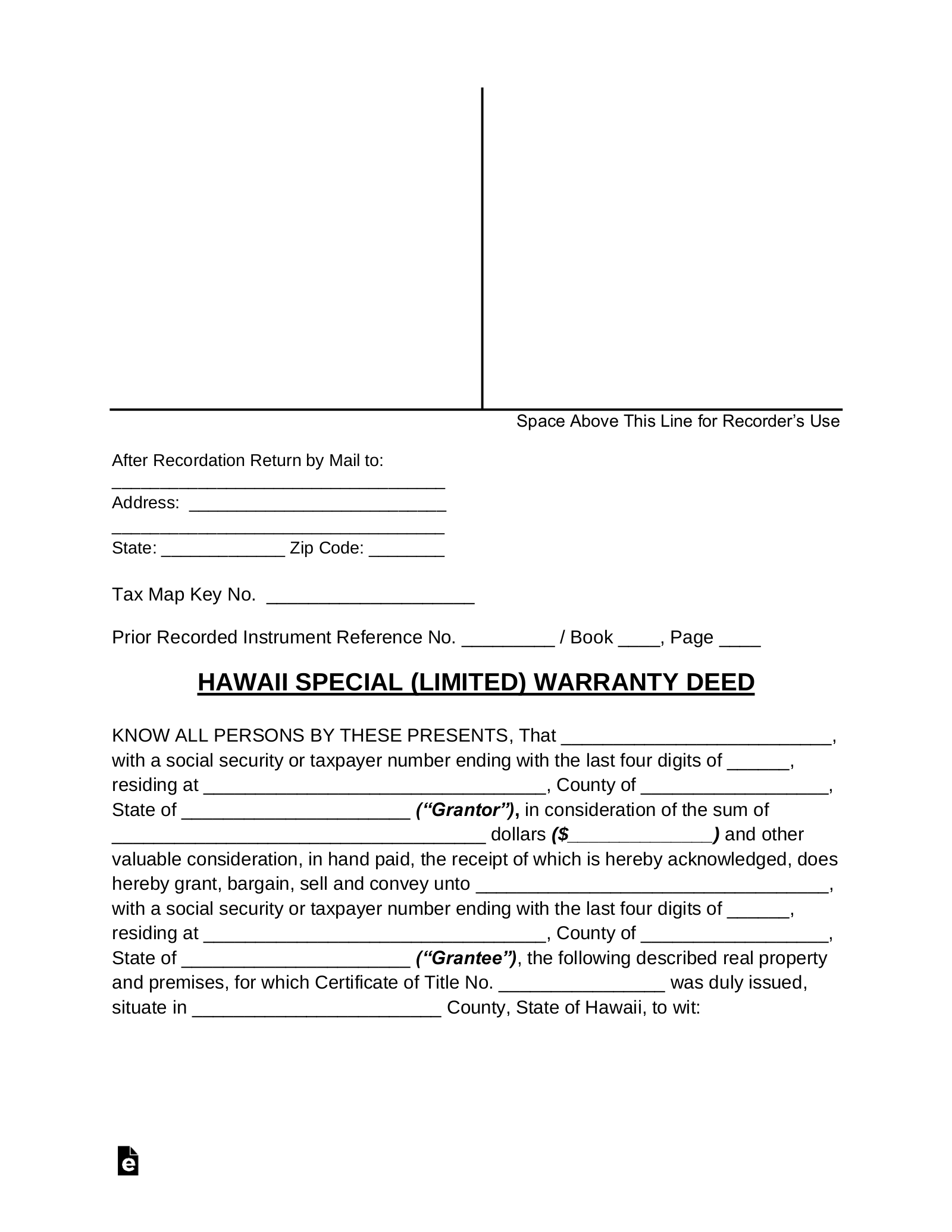 Special Warranty – Provides a limited warranty that the title has not been "encumbered" since the seller has owned the property.
Download: PDF, MS Word, Open Document
---
Transfer on Death – Transfers property to a beneficiary.
Download: PDF, MS Word, Open Document
---
Hawaii Property Search
A property or title search is done when there is a transfer of real estate. It provides the seller and buyer with information as to any issues with the title, such as mortgages that have not been discharged, or easements that were not known or transfers that took place in the past. In Hawaii, land records are recorded and kept at the Bureau of Conveyances and can be accessed online or in person. If you access the documents online, there are subscription and documents fees. The following is the process for accessing land title information online:
Step 1 – Go to the Hawaii Board of Conveyances website.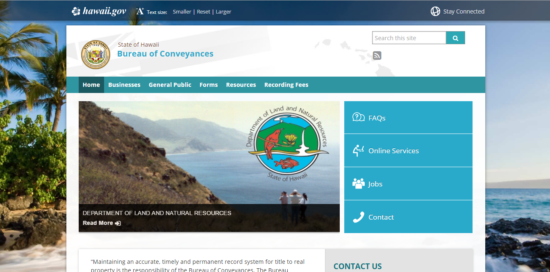 Step 2 – Click on "Online Services".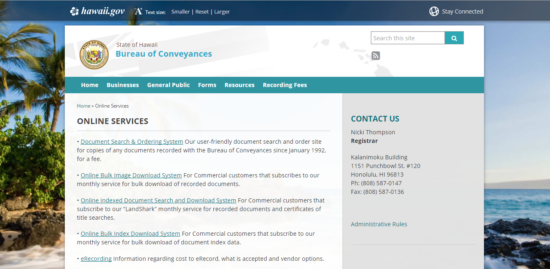 Step 3 – For non-commercial use, click on "Document Search and Ordering System". You will be brought to this page: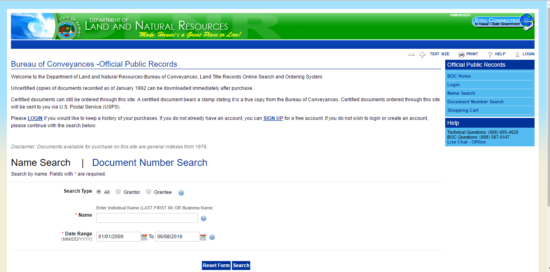 Step 4 – Click whether or not you are searching for a grantor or grantee. You will want to go backward and start with the deed given to your seller, therefore he or she would be the grantee in that situation. Then type in the last name and first name. You will be brought to a validation page such as the following: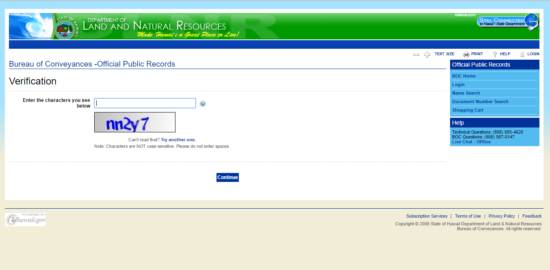 Step 5 – Enter in the correct validation code and you will go to a page of document hits such as the following: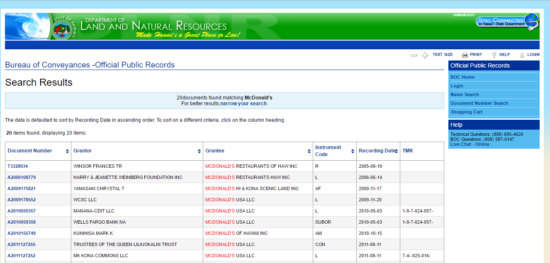 Step 6 – Click on the document you are interested in and you will go to a page like this where you can choose electronic delivery or mail delivery and you can add it to your "cart":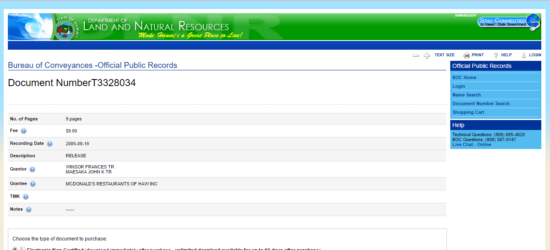 Step 7 – You will be brought to a page similar to this where you can click on continue the search or check out.