Updated August 28, 2023
A Kentucky deed form is the legal method for conveying real property (real estate) from one person to another. There are different forms depending on the type of situation involved. All deeds require the name of the grantor or seller and the name of the grantee or buyer. In addition, a legal description of the property is required and the consideration paid for it. Deeds must be acknowledged by a notary public or two witnesses and filed with the county clerk in the county in which the property is located.
Deed Types (3)
---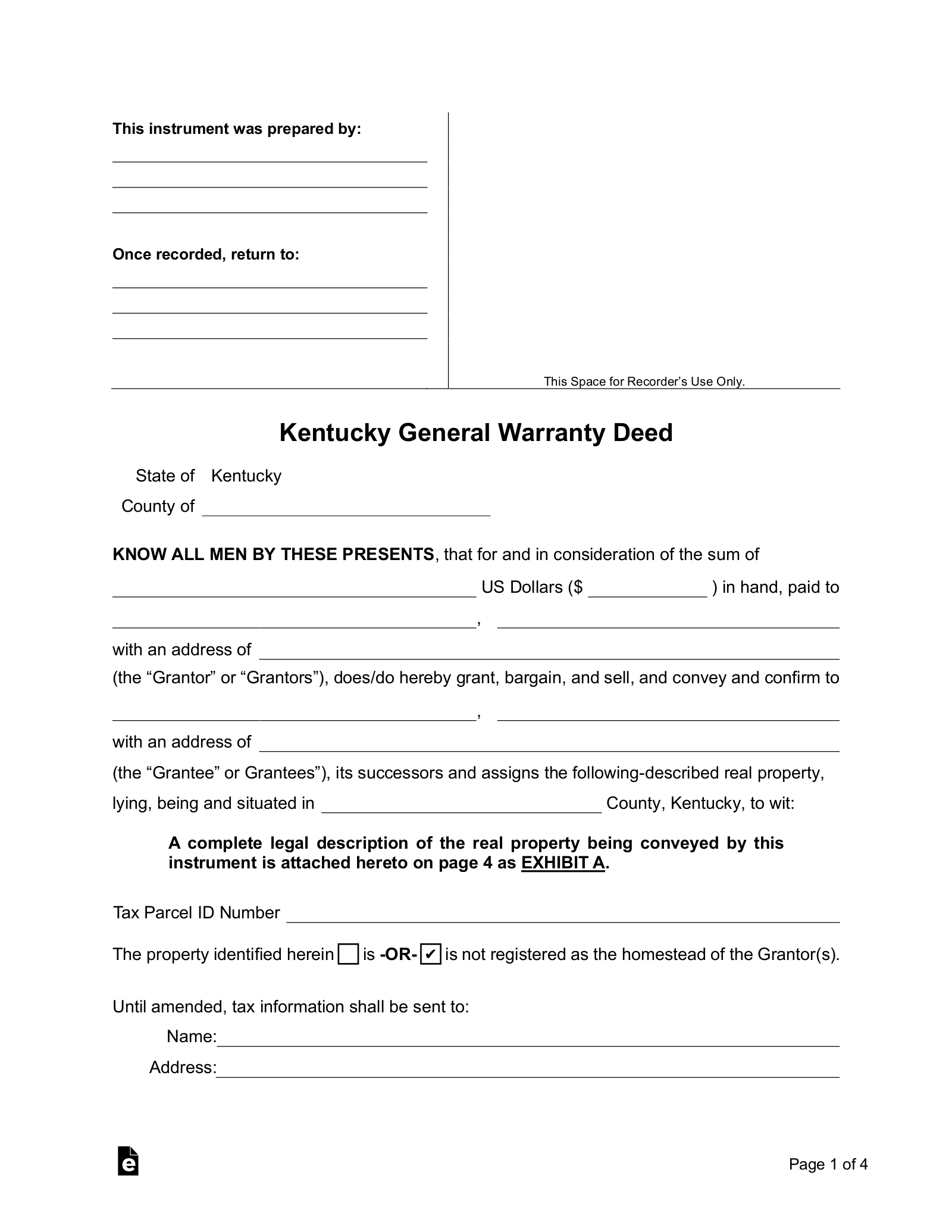 General Warranty – A general warranty transfers property with a guarantee from the grantor that the title is clear and that they have the legal authority to sell.
Download: PDF, MS Word, Open Document
---
Quit Claim – A quitclaim deed transfers property without a guarantee from the seller that they have a clear title to the property.
Download: PDF, MS Word, Open Document
---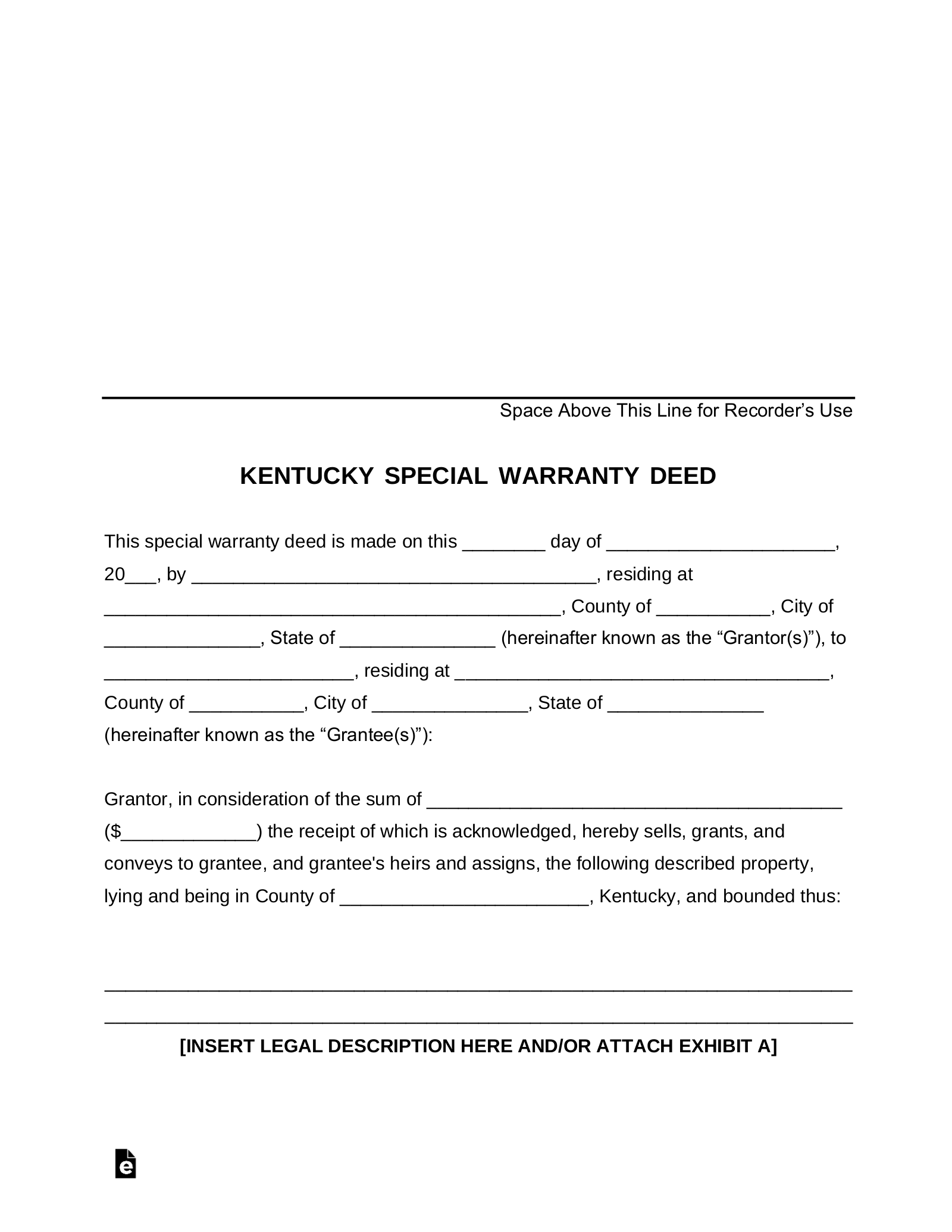 Special Warranty – A special warranty provides a limited warranty, with the grantor guaranteeing that namely that they have not transferred any interest in the property during their ownership.
Download: PDF, MS Word, Open Document
---
Kentucky Property Search (4 steps)
When purchasing real estate, it is important that you, as the buyer, know exactly what rights to the property you are purchasing. In order to find out, a thorough property search is recommended whereby you go back through the records of the property looking at each transfer. This is a way to find out if there are any easements or undischarged mortgages. There are different options for searching depending on which county you are in. Some counties require you to go in person to the county clerk's office, while others have online search capability. Here is a link to the County Clerks' Contact Information so you can call to find out what options they have.
As an Example: Below shows how to start a property search in only Boone County, Kentucky.
Step 2
Hover your cursor above "LAND & LEGAL RECORDS" and select "LAND RECORDS" from the list of available options.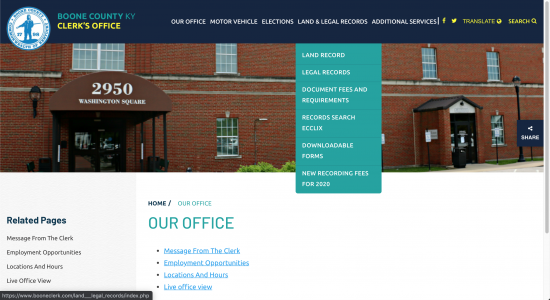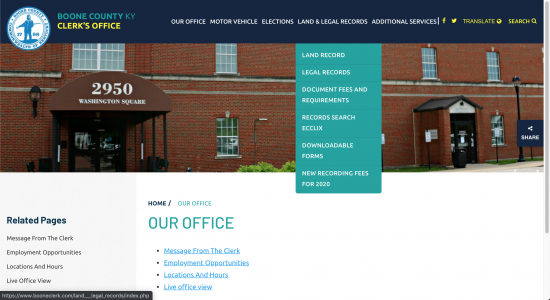 Step 3
Before you can commence a search, you will have to become a subscriber to their search engine by clicking on "sign up page."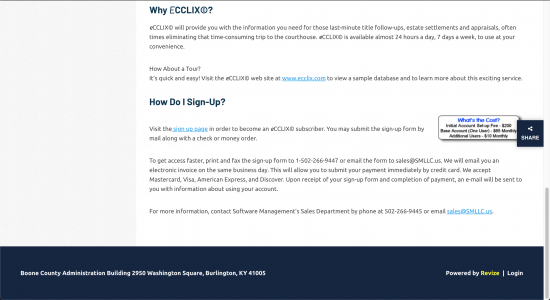 Step 4
Sign up for a subscription by selecting either "One Day Pass" or "Signup Today!" Navigate through the subsequent pages to create your account. You may then perform your land records search.