Updated July 18, 2023
A South Carolina special warranty deed guarantees the ownership of real property to someone else (grantee) that is free and clear of liens and encumbrances during the term of the grantor's period. The grantee will be liable for any claims on the property prior to the grantor's ownership period.
Laws – Title 27. Property and Conveyances
Recording (Code 1976 § 30-7-10) – Must be recorded with the County Register of Deeds where the property is located.
Signing (Code 1976 § 27-7-10) – Must be signed with at least two (2) witnesses in the presence of a Notary Public. The Notary Public may serve as one (1) of the witnesses.
How To Write
Download;  PDF, Microsoft Word, OpenDocument
I. South Carolina Preparer
(1) Contact Information For Preparer. This document will require a certain amount of preparation before it can be signed by the South Carolina Grantor. The Party responsible for submitting information to this paperwork in preparation of its execution should be identified. Therefore dispense the Preparer's legal name and entire address in the first area.

II. Approved Recipient
(2) Target Destination For Filed Paperwork. While this document must be filed with the County Register of Deeds, this Office will not retain it after its registration. The legal name and address of the Approved Recipient of this document should be displayed for the reference of the County Registry of Deeds where it is filed.

III. South Carolina Grantor
(3) South Carolina Grantor Name. The Owner of the South Carolina real property must be designated as the South Carolina Grantor in this document. This requires that his or her legal name is placed on display at the start of the sentence.
(4) Home Address Of South Carolina Grantor. Utilize the three spaces that follow the Grantor's name to deliver his or her complete street address (including apartment/unit number), County, and State of residence.

IV. South Carolina Property Consideration
(5) Documentation Of Payment. The South Carolina Grantor's received payment for the real property should be recorded as a written report then reproduced numerically.

V. South Carolina Grantee
(6) Name Of South Carolina Grantee. As this instrument shall work to enable the South Carolina Grantee to release his or her current ownership over real property in this state, it must name the Party or the Entity that will take over ownership. This Grantee of South Carolina real property must be reported by name in the statement being made. If there is more than one Grantee then include his or her name in this area as well or on an attachment naming him or her to this role.
(7) Home Address Of South Carolina Grantee. Furnish the South Carolina Grantee's home address as the building number/street/apartment of his or her residence, his or her residential County, and the State where he or she resides to this statement. Three distinct areas in this statement are reserved for this information's presentation.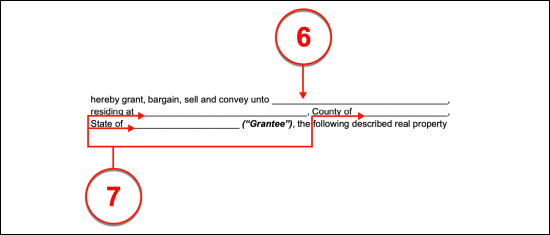 VI. Property Discussion
(8) County Of South Carolina Filing. A record of which South Carolina County governs the real property that shall be released is required to complete the statement discussing the property.
(9) Legal Description Of South Carolina Property. The County Register of Deeds where this South Carolina property's last deed was filed will have a record of the legal description used to officially define the property. Either the last deed that was filed or the County Register of Deeds that handled this process will be able to act as a source for the real property's legal description. Furnish the South Carolina property's legal description as required by this paperwork.

VII. South Carolina Grantor Signature
(10) Required Signature Of South Carolina Grantor. The signature required of the South Carolina Grantor must be submitted in a provable manner. To this end, two Witnesses and a Notary Public with an active license will need to watch this action.
(11) Name And Address Of South Carolina Grantor. The signature process the South Carolina Grantor is completing requires that the South Carolina Grantor also print his or her name and residential address.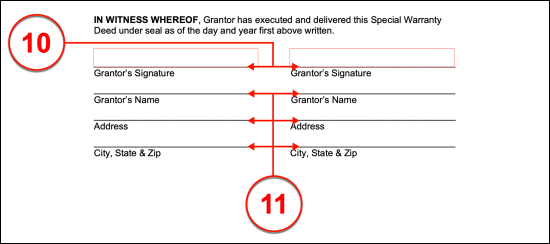 VIII. South Carolina Witness Acknowledgment
(12) Witness Signature. Both Witnesses observing the South Carolina Grantor signing will need to sign this document as well.
(13) Witness Address. Each Witness must complete his or her own area with the address of his or her residence.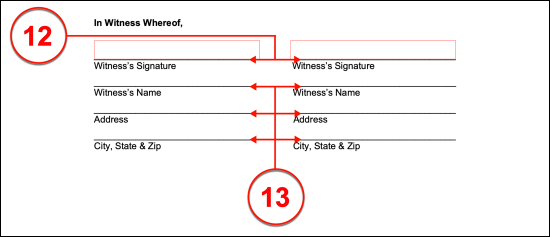 IX. South Carolina Notarization
(14) Action Of Notarization. The Notary Public present at the South Carolina Grantors signing shall complete this process of execution with a report of the date, the name of every signature party, and the location of this document's execution.