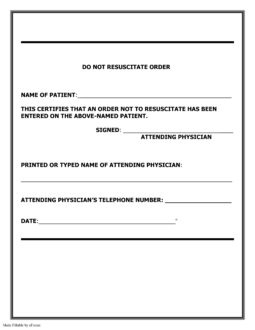 5.0 Stars | 3 Ratings
129 Downloads
Updated July 18, 2023
The Georgia do not resuscitate (DNR) order form is a document requested by an individual who does not wish to have any resuscitation procedures performed on them in the event of cardiac or respiratory arrest. This form is reserved for patients who have a medical condition which, upon the use of CPR or other resuscitation procedures, would result in imminent death. Furthermore, patients who are in a noncognitive state with no reasonable possibility of regaining said cognitive functions and patients for whom CPR would be futile would also be appropriate candidates for a DNR. In the event that a patient is unable to make decisions for themselves (e.g., incompetent or in a noncognitive state), an authorized representative can make a DNR request on their behalf. In all cases, the patient's physician will be the one to complete and sign the DNR form. Individuals who are no longer hospitalized, but wish to wear a DNR identifier (bracelet), can ask their physician to complete this request for them (see instructions below)
Laws – § 31-39-(2-9)
Required to Sign – Physician.
How to Write – DNR Order
Step 1 – One can ask the patient's physician to draft a DNR form on behalf of the patient. Otherwise, download the sample Georgia DNR form in PDF.
Step 2 – Provide the following information in the applicable fields:
Patient's name
Physician signature
Name of physician
Physician's phone number
Date of signing
How to Write – DNR Bracelet (Optional)
Step 1 – Download the DNR Bracelet Request Form in PDF.
Step 2 – Enter the following information onto the appropriate lines:
Patient's name
Authorized person's name and phone number (if applicable)
Physician's name and phone number
Date of order