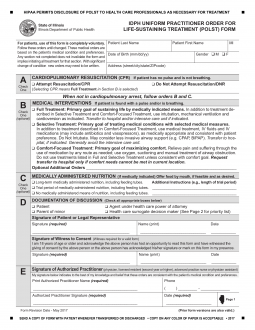 4.7 Stars | 22 Ratings
320 Downloads
Updated July 19, 2023
An Illinois do not resuscitate (DNR) order form can be requested by residents of Illinois who wish to avoid CPR and other resuscitative procedures in the event that their heart or breathing stops. Typically used by patients who are terminally ill, or whose condition would render resuscitation a futile process, a DNR will ensure that all medical personnel, EMTs, paramedics and the like do not attempt any life-saving tactics should such a situation arise. Preparing a DNR form allows patients to feel at ease knowing they have expressed their intentions ahead of time in case they are unable to make important decisions in the future. For patients who are incompetent or incapacitated, an authorized representative (agent under power of attorney, healthcare surrogate, etc.) can execute a DNR order on their behalf. In all cases, the patient's attending physician must sign off on the DNR order form. Illinois recently revised their DNR form and integrated it into a more detailed and all-encompassing life-sustaining-treatment form; the Practitioner Orders for Life-Sustaining Treatment (POLST) form. It is recommended that patients use the POLST form as it is now the more widely accepted order.
Laws – 755 ILCS 40/65
Required to Sign – Patient, physician and one (1) witness.
How to Write
Step 1 – Download the POLST form in PDF.
Step 2 – Enter the patient's full name, date of birth, gender and address on the lines at the top of the form.
Step 3 – Select one (1) of the CPR options under section 'A'; "Attempt Resuscitation" or "Do Not Attempt Resuscitation."
Step 4 – Section 'B' asks which treatment the patient would prefer in the event that they do have a pulse and/or are breathing. Select either "Full Treatment", "Selective Treatment" or "Comfort-Focused Treatment." Any additional orders can be added into the field at the bottom of this section.
Step 5 – The patient can also choose how they would like nutrition to be administered if they are no longer able to feed themselves. Select one (1) of the checkboxes under section 'C' and provide any additional instructions.
Step 6 – Under section 'D', "Documentation of Discussion", select a checkbox at the top to indicate who is representing the patient; themselves or a representative. Next, the patient (or legal representative) and a witness must inscribe their signatures, print their name, and enter the date on which the form was signed.
Step 7 – The attending practitioner (physician) must enter their name, phone number, signature and date in section 'E'.
Step 8 – The second page of the form is for information purposes. Enter the patient's full name at the top, any additional advance directives the patient has, and the contact information for the healthcare professional that prepared the form.