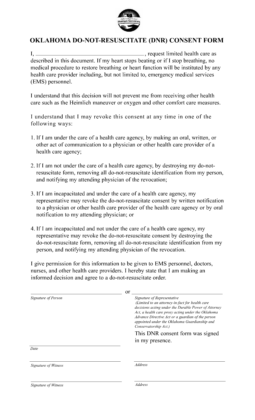 4.5 Stars | 8 Ratings
180 Downloads
Updated July 19, 2023
The Oklahoma do not resuscitate (DNR) order form specifies a person's choice to reject cardiopulmonary resuscitation (CPR) in the event of cardiac or respiratory arrest. A patient who voluntarily executes a DNR form, or who has an authorized representative complete the document on their behalf, will not be resuscitated by health care providers but will instead be allowed a natural death. The DNR order is valid immediately after it is signed by the patient and two (2) witnesses who are eighteen (18) years of age or older and who are not named in the patient's will.
Laws – § 63-3131.5
Required to Sign – Patient (or representative), physician and two (2) witnesses.
How to Write
Step 1 – Download in PDF.
Step 2 – Enter the patient's name in the first available space at the top of the form.
Step 3 – Continue down the page until you reach the (2) two signature fields. If the patient has the capacity to provide their signature, they must sign above the space on the left. However, if the patient is unable to sign and an authorized representative is acting on their behalf, that individual should provide their signature on the right. Use the remaining space to enter the date that the form was signed.  
Step 4 – The DNR form will need to be signed by two (2) witnesses. Each witness must sign on the left and provide their addresses in the corresponding fields to the right.
Step 5 – Page (2) of the DNR form should only be completed by a physician attending to an incapacitated person who is without a representative. Additionally, the physician must have sufficient reason to believe that the patient would not consent to the application of CPR. If the specifications mentioned above are applicable, the physician should enter the name of the incapacitated person in the space.
Step 6 – In the remaining fields, the physician must supply their signature, print their name, enter their address, and specify the date the form was signed.