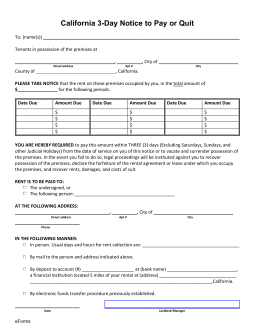 4.6 Stars | 300 Ratings
4,095 Downloads
Updated June 08, 2023
A California 3-Day Notice to Quit (Non-Payment of Rent) form is used to notify a tenant that they are in violation of the lease for the non-payment of rent, and the tenant has three (3) days to correct the issue or be evicted. By law, the notice must accurately state the amount of rent that is due and the name, address, and telephone number of the person/company to whom the rent must be paid.
If the notice is served in person, the landlord should deliver it during proper hours; if the landlord cannot find the tenant at home, they may try to serve the tenant at work. The landlord can send it by certified mail if the address does not accept personal deliveries. The landlord may use the receipt as proof of delivery. If the tenant sends their (late rent) payment by mail, the law assumes the received date on the postmark. If the landlord's banking institution is within 5 miles of the unit, the tenant can pay directly to the financial institution if given the street address and the account number of the financial institution.
Helpful Tips Regarding a 3-Day Late Notice
When calculating the 3 days:

Day 1 is the 1st day after the tenant receives the notice;
Saturdays, Sundays, and court holidays are excluded.

The landlord cannot require the tenant to pay late rent in cash.
Written notice must include a statement demanding that the tenant must either pay or

quit (vacate)

 the premises.
If the rent is corrected within 3 days, the tenancy continues as normal.
If the tenant offers to pay after the 3 days expire, the landlord has the option to accept or proceed with an eviction. If the landlord accepts after expiration, they give up their right to evict the tenant.
The amount entered on the notice must be exact and cannot contain late fees, interests, or other values that are not part of the defaulted rent.
Laws – Cal. C.C.P. § 1161(2)