Updated August 17, 2023
An Illinois five (5) day notice to quit is a document, in accordance with State statutes, submitted to a tenant by their landlord for either not paying rent on time or for committing an unlawful act on the premises. The non-payment notice gives the tenant a total of five (5) days to either pay all that is due to the tenant or leave the property along with their possessions. If the tenant decides to leave, they shall be liable for the entire amount past due plus any other obligations that were in the lease agreement. If the defendant committed an unlawful act, their lease shall be considered terminated and will be forced to leave at the end of the time period.
By Type (2)
---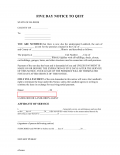 5-Day Notice to Quit (Non-Payment) – Pursuant to 735 ILCS 5/9-209 the tenant has five (5) days from the time they receive notice to pay the landlord back in full. If the landlord is not paid then they shall remove themselves from the property at the end of the time frame.
Download: PDF
---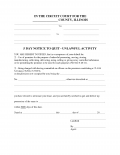 5-Day Notice to Quit (Unlawful Activity) – Terminates the tenant's lease immediately and gives the residents five (5) days to move out. There is no right to cure the issue and if they do not leave they will be subject to a forcible entry and detainer (FED) by the landlord.
Download: PDF
---