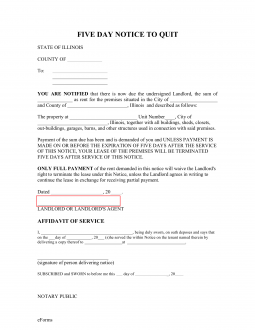 The Illinois 5-Day Notice to Quit (Non-Payment of Rent) is a document used in the unfortunate event when a tenant fails to pay rent on time. If the landlord does not receive rent on the day rent is due, they may issue a 5-day notice to quit the following day stating that the tenant has the option to cure the rent or move out of the rental unit. This notice should be served in person, given to the tenant by the landlord or the landlord's agent.
If the tenant gives notice of their intention to quit the premises and ends up failing to deliver possession back to the landlord, the tenant is liable to pay the landlord/lessor double the rent. The security deposit may not be forfeited due to an eviction except to pay fees charged by the sheriff for carrying out an eviction.
Laws – 735 ILCS 5/9-209
How to Write
Step 1 – Complete up until the Affidavit of Service. This part is the actual notice to quit which will be used to notify the tenant of their breach of non-payment and will give them two options, either to pay rent owned or move out. Fill in the following information.
County
Tenant's name and address
Amount due
City and County of the rental unit
Date and signature of the landlord
Step 2 – After serving the tenant with the notice to quit, fill out the Affidavit of Service by obtaining the tenant's signature. This proves that the tenant was served and can be helpful if needed in court. Complete the affidavit of service with the following.
Landlord's name
Date served
Name of the person served and the address of their dwelling unit
Signature of tenant
Again, write the date served