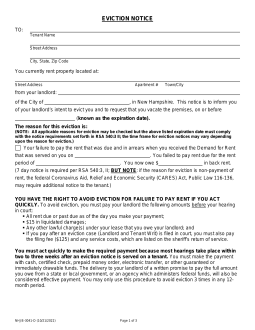 3.7 Stars | 3 Ratings
85 Downloads
Updated July 18, 2023
A New Hampshire notice to quit is a legal document announcing a tenant's violation of their lease. For non-payment of rent, the tenant is granted seven (7) days to pay the full amount or vacate the premises. For non-compliance (lease violations) the tenant will have thirty (30) days from the time the notice is served to remediate the issue.
Non-Payment of Rent: 7 days.
Non-Compliance: 30 days.
Demand for Rent Form – This form is required to be attached to the notice to quit if the tenant has not paid rent.
Laws – N.H. Rev. Stat., Chapter 540. Actions Against Tenants
See the NH Consumer Protection Bureau's Sourcebook for more information on eviction.