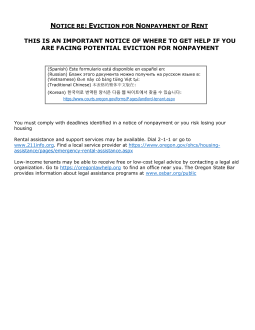 4.3 Stars | 9 Ratings
182 Downloads
Updated September 15, 2023
An Oregon 10-/13-Day Notice for Non-Payment of Rent is a written notice informing the tenant of the landlord's intent to terminate the lease agreement for non-payment of rent. The notice is required in Oregon before a landlord files a complaint with the court. The notice must include the amount of rent owed, instructions on how to pay, the applicable time for remedy, and several other required statements as seen below.
Tenants must be at least five days past due on rent payments for a landlord to serve this notice.
If rent is 5 days past due, the landlord must give a 13-day notice;
If rent is 8 days past due, the landlord can give a 10-day notice.
Laws –  Residential Landlord and Tenant Act
"Nonpayment" Defined (H.B. 2001) – "Nonpayment" refers to a tenant's failure to pay an amount due to their landlord, including a rent payment, late charges, utility or service charges, or any other charge or fee as described in the lease.
Rental Assistance Notice (ORS § 90.394) – All notices for non-payment must also include the Oregon Judicial Department's required rental assistance notice.
Timing (OJD Instructions) – The notice must specify the exact date and time that it expires. When calculating, Day One is the day after notice is given. Any mailed notices must accommodate three additional days to the minimum time required by law. The last day shall not end until midnight. For example:
If landlord personally delivers the notice, the count begins the following day. If landlord mails the notice, four days must pass before the count begins, i.e., one day to begin the count and another three days to account for the mailed notice requirement.
Veterans (§§ 408.515, § 90.391) – Notices sent or served on veterans must contain the required statements on relief and assistance programs.