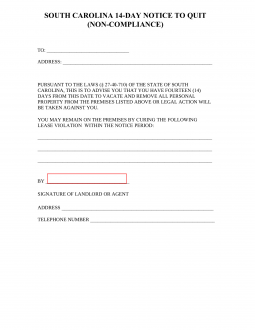 4.7 Stars | 9 Ratings
147 Downloads
Updated July 18, 2023
A South Carolina 14-day notice to quit (non-compliance) is a warning that a landlord sends to a tenant who has breached a rental agreement in ways that affect health, safety, or the physical condition of the property. This notice should be written and delivered to the tenant to specify the acts and omissions constituting the breach. If not remedied within 14 days, the rental agreement will terminate except in the following cases:
The tenant adequately remedies the breach before the date stated in the notice or if the breach is cured by repairs.
If the breach isn't cured within the fourteen days but is commenced within that period of time and pursued in good faith to cure in a reasonable time, the rental agreement should not terminate for the breach.
Laws – Code 1976 § 27-40-710