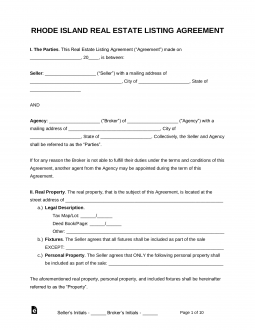 Rhode Island real estate agent listing agreements provide a platform for an agent and seller of real property to agree on terms and conditions of a business relationship. Whereas the seller wishes to sell a piece of property, the agent agrees to help market and advertise said property in exchange for a percentage of the sale price (commission). Terms of the agreement include the price, purpose of the contract, commission rate, duties and obligations of both parties, duration/expiration, and cancellation. There are a few types of listing agreements, however, an exclusive right-to-sell is the most popular. This type of agreement allows the agent the exclusive right to sell the property and awards them the full commission regardless of how the sale is made. The terms of an exclusive right-to-sell agreement and all other listing agreements are negotiable.
Agency Disclosure Form (§ 5-20.6-8) – Real estate licensees must present a copy of the relationship disclosure form to any prospective client before the exchange of confidential information.
Disclosed Dual Agency (§ 5-20.6-6) – Real estate licensees may represent more than one (1) party in a real estate transaction but only as a facilitator, and only if informed written consent is provided by both parties.
Property Disclosure Statement (§ 5-20.8-2) – A written disclosure form containing all known material defects of a property must be presented to a potential buyer before the transaction is finalized.
Search a Licensee – Find a real estate broker in your area.