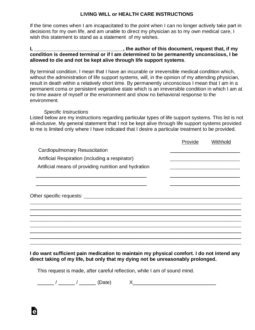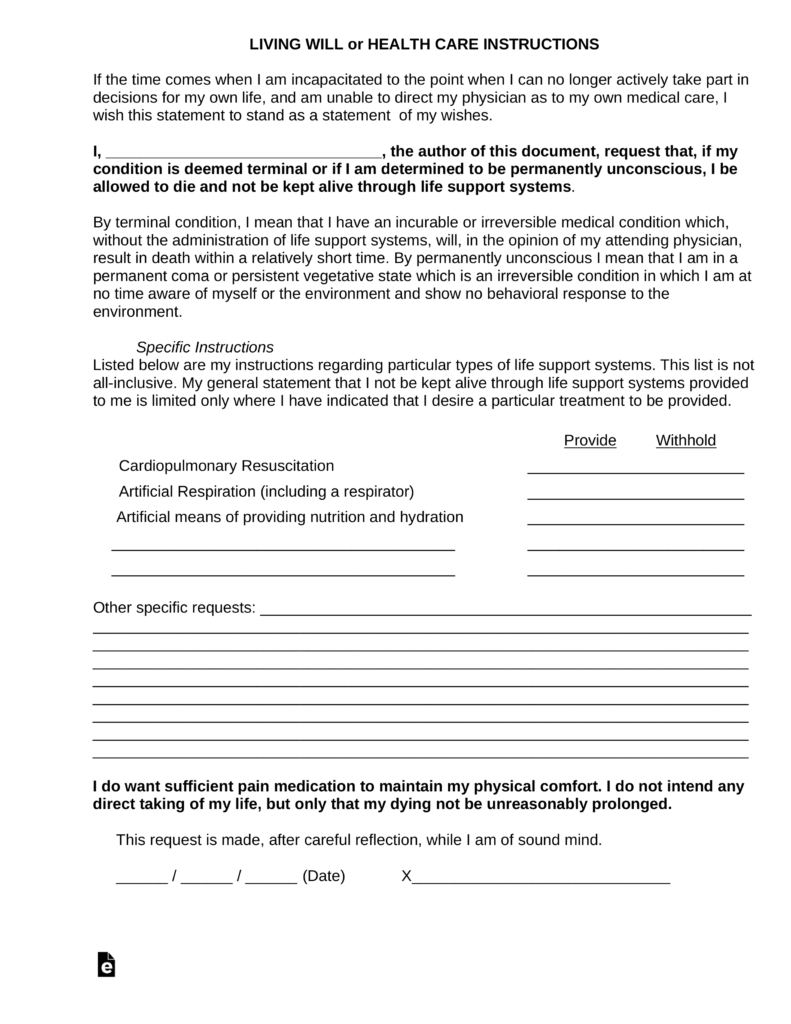 A Connecticut living will, or 'Declaration to Remove Life Support System', provides a person's preference for whether they would like to accept or reject life-saving treatments if they should be permanently unconscious. This would only be available if the person had no realistic path of being cured. The patient may choose to accept or reject CPR, artificial respiration, or artificial means of nutrition and hydration.
Laws – § 19a-575
Signing Requirements (§ 19a-575) – Two witnesses.
State Definition (§ 19a-570(a)) – "Living will" means a written statement in compliance with section 19a-575a, containing a declarant's wishes concerning any aspect of his or her health care, including the withholding or withdrawal of life support systems.
How to Write
Download: Adobe PDF
Step 1 -Naming the Principal – In the first line of the document, enter the Principal's full legal name
Step 2 – Principal's Instructions – The Principal must review the statements as provided. If in agreement with these statements, initial the selections you would like provided or withheld as follows:
Cardiopulmonary Resuscitation
Artificial Respiration (including a respirator)
Artificial means of providing nutrition and hydration
If you have other provisions you would like to have provided or withheld, write them in and specify your wishes on the appropriate lines to the right. If you require more room, add a continuation sheet and attach it to the document
Step 3 – Other Specific Requests – If you have other requests that you would like recognized and implemented, write them into the lines provided. If more room is required, add a continuation sheet and attach it to the document
Read the statement regarding the provision of pain relief medications
Date the Principal's signature in mm/dd/yyyy format
Enter the Principal's signature or mark to the right if the date entered
Step 4 – Witness' Signatures – The witnesses must carefully review the statement prior to submitting their signatures. Once the statement has been reviewed by each witness, enter the following:
Witness 1 – 
Witness Signature
Physical Address
City, State, Zip Code
Witness 2 – 
Witness Signature
Physical Address
City, State, Zip Code