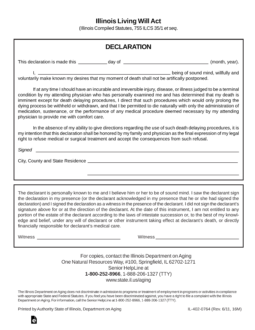 4.8 Stars | 16 Ratings
159 Downloads
Updated August 03, 2023
An Illinois living will is a declaration that allows a person to withhold their end-of-life treatment preferences in the event of irreversible injury, disease, or illness. This is for individuals with the intention to die naturally if it's considered any life-sustaining procedures will only prolong the dying process.
Definition
"Declaration" means a witnessed document in writing, in a hard copy or electronic format, voluntarily executed by the declarant in accordance with the requirements of Section 3.
How to Write
Download: PDF
Step 1 – Naming the Declarant – Enter the following information at the top of the document:
Date the document in dd/mm/yyyy format
In the next line, enter the full legal name of the declarant
Step 2 – Declarant Review of Statements – The Declarant (Principal) must carefully review the next two paragraphs entirely. If the declarant feels that they are in complete understanding and agreement, enter the following:
The signature of the Declarant
City, County, and State Residence
Step 3 – Witness Review of Statement and Signatures – This document requires the witness and signatures of two (2) witnesses. The witnesses must carefully review the statement. If both witnesses agree with the statement, then they must enter:
Signatures of both witnesses
This document does not require notarization unless otherwise chosen by the Declarant/Principal.