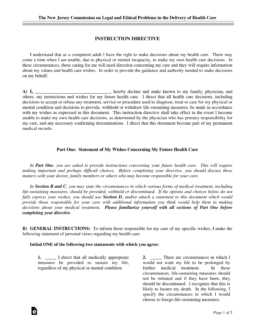 The New Jersey instruction directive, better known as a 'living will', is a document that provides instructions to the Declarant's Medical team with regard to how they would like to have their end of life options honored when there are no other medical options to extend a quality of life. This document may be revoked at any time as long as the Declarant is of sound mind to do so.
Definition – § 26:2H-55
Laws – § 26:2H-57
Medical Power of Attorney – Allows a person to select a proxy that is able to step in, if the patient cannot do so for themselves, and make any type of health care decision on the person's behalf and in their best interest.
How to Write
Step 1 – Establishing the Declarant- The Declarant must carefully read the first two paragraphs of the document
Enter the Declarant's name
Step 2 – Statement of My Wishes Concerning Future Health Care – Declarant must read the paragraphs
Initial your selection with regard to your preference
If number 2 was selected – initial a,, b. c. or all three
If more information must be added, you  may do so in the lines provided
Step 3 – Specfic Instructions – In the next three sections you will provide more specific instructions with regard to how you would like your health care arranged with your medical team. Read the information in this area.  In the next three sections, in the space provided, write in the bracketed phrase with which you agree:
Should you feel that none of the information adequately describes your wishes, then write into the lines provided, what your preferences are.
Step 4 – Additional Instructions: Should you feel that you would like your family or medical team to confer with one another before any decisions are concluded, write this information into the lines provided.
If you could become or are pregnant, be very specific with regard to how you would like your medical care to be arranged.
Step 5 – Addressing Brain Death – The state of New Jersey is very respectful with regard to how this aspect of end of life procedures are handled according to many aspects, religion being most important.
The Declarant must carefully read this section of the document. If in disagreement based on religion or any other reason, initial the box below the statement, to ensure that your wishes are properly honored as they should be.
Step 6 – After Death- Anatomical Donations – It is now possible to use human organs as research to increase the understanding of how to better heal the human body and even more importantly, transplant human organs and tissue in order to save and improve the lives of others. If you would be interested in becoming a part of this program, it's asked that you indicate that if this is something you you would like to consider, that you would initial the areas that best fit your choices.
Should you choose not to participate in this program, simply go to the end of the section and initial the section stating that you choose not to participate.
Step 7 – Signature and Witness -It is important that an original copy of this document be provided to your physician, a family member or friend. Provide the following information with regard to the person or persons that you wish to have an original copy of this document by providing the following:
Name
Address
City
State
Telephone Number
Step 8 – Signature of Declarant – The Declarant must read the statement stating that they do, in fact, understand what has been stated as their personal decisions pertaining to their end of life decisions. Once they've read the statement, if in agreement, the Declarant must provide the following:
Date the signature in dd/mm/yyyy format
Provide Declarant's Signature
Address
City
State
Step 9 – Signature of Witnesses – Once the witnesses have been present before the Declarant and witnesses their signature, the witnesses must provide the following:
Witness 1 –
Witness' Printed Name
Address
City
State
Witness' Signature
Date of Signature in mm/dd/yyyy format
Witness 2 –
Witness' Printed Name
Address
City
State
Witness' Signature
Date of Signature in mm/dd/yyyy format