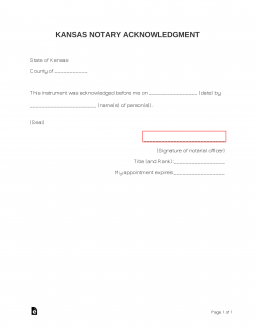 A Kansas notary acknowledgment form is often attached to a document, legal or otherwise, to prove the authenticity of the signatures therein. Signed and sealed by a notary, this statement also certifies that each signer personally appeared in front of the notary to identify themselves and declare that they signed the document under their own free will. There are many accepted forms of identification that can be presented to the notary; alternatively, the notary public can simply identify an individual through personal recognition. Although it is not necessary, the signers may choose to leave the signature fields blank and sign in front of the notary instead. (This can often help prevent future legal complications.) The Kansas notary acknowledgment form can be filled in by the notary once they have verified all identities and noted each signer's declaration.
Laws – § 53-509
Notary Handbook – Prepared by the Kansas Secretary of State's Office, this manual outlines the duties, guidelines, statutes, and regulations of a notary public.
How to Notarize in Kansas
Step 1 – Locate a notary public to start the notarization process. This can be accomplished by using one of the following options:
Banks or Credit Unions (Capitol Federal has the most branches throughout the State)
Step 2 – Present the document to the notary public. Unless the document needs an acknowledgment, all signature fields should be left blank.
Step 3 – Each signing party must present identification to the notary. If the notary public recognizes one of the signers personally, it is considered sufficient verification.
Step 4 – Signatures can be inscribed on the document in front of the notary. For acknowledgments, the document can be presented with signatures included. In this case, each signer must declare that they signed absent of coercion.
Step 5 – Some notarial acts, specifically jurats, require that signers take an oath or affirmation certifying the truthfulness of the documents' contents.
Step 6 – The document is notarized once the notary signs and stamps the notarial certificate.
Verify a Notary in Kansas
Step 1 – The Kansas Secretary of State's website does not offer an online notary public search option. Instead, one can contact the Notary Public division directly via the Secretary of State contact webpage or visit the AAN (American Association of Notaries) website to perform an online search.

Step 2 – To begin an online search, enter a city or Zip code into the appropriate field and click Search.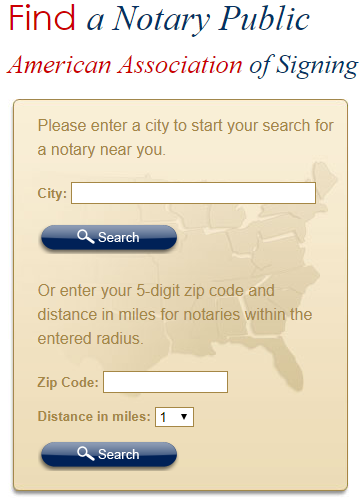 Step 3 – A list of notaries that fit the desired search parameters will display near the bottom of the page.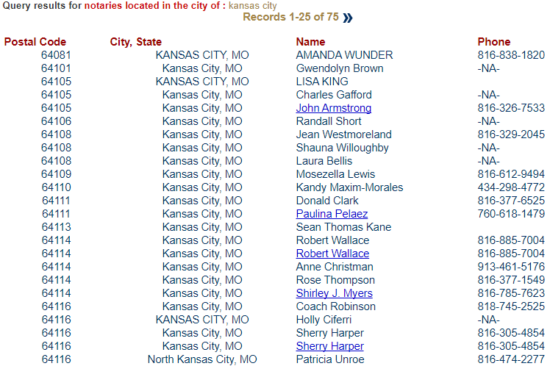 How to Write (For Notary)
Step 1 – Download in Adobe PDF, Word, or ODT.
Step 2 – Enter the name of the county in which the document is being acknowledged, as well as the date and the name of the signer(s).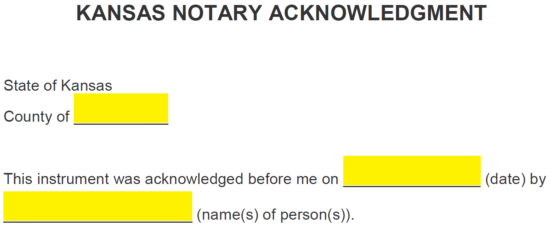 Step 3 – The notary must provide their official seal, their signature, their title/rank, and their commission expiration date.