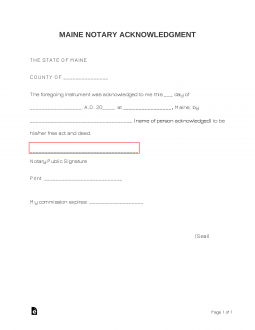 A Maine notary acknowledgment form is used to officially certify the signing of a document. This formal notary acknowledgment is intended to verify that the individual is signing the document of their own free will. Before having their document notarized, the individual will fill out all of the required information and bring the completed forms to a notary public. They must identify themselves to the notary public using a valid ID, declare their willingness to sign, and then sign the document in the notary's presence the document in the notary's presence (the notary's witnessing of the signature is not necessarily required for an acknowledgment, but is recommended). The notary public will notarize the document by providing their signature, commission expiration date, and their seal on the notary acknowledgment form.
Laws – § 4:22:1016
Notary Handbook – Outlines the laws, rules, requirements, and regulations regarding public notaries and acts as a guide for individuals who wish to become one.
How to Notarize in Maine
Step 1 – You can locate a notary public in your area by utilizing one (1) of the following resources:
Step 2 – Before having your document notarized, make sure that you fill out all of your documents and that you attach the Notary Acknowledgment Form.
Step 3 – When you meet with the public notary, you must bring your completed documents and a valid ID. The notary public will examine your identification and the documents that you wish to have notarized.
Step 4 – Next you will sign and date your documents, after which the notary will provide their signature, their certification expiration date, and their seal/stamp. At that point, your document will be notarized.
Verify a Notary in Maine
Step 1 – Navigate to the Maine.gov Total Notary Solution webpage.

Step 2 – Using the drop-down menus, select your "Search Type" and "County" (if applicable to your search). Complete your search by providing one or more of the following pieces of information before clicking Search:
Town or city
Last name
First name
You can also refine or organize your search by using the "Language Spoken" and "Sort By" drop-down menus.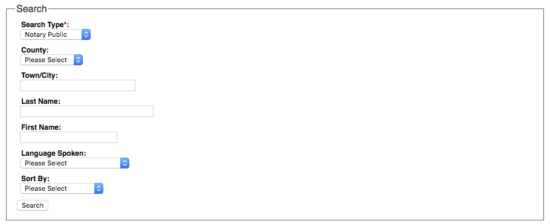 Step 3 – After conducting a search, you will be given a list of notary publics who match your search criteria. Their home and/or work telephone numbers are listed on this page.

How to Write (For Notary)
Step 1 – Download the Maine Notary Acknowledgment Form as a Microsoft Word, .ODT, or PDF file.
Step 2 – Provide the name of the county where you are signing the document, the date, the name of the city or town that you are in, and the name of the person whose written action you are acknowledging.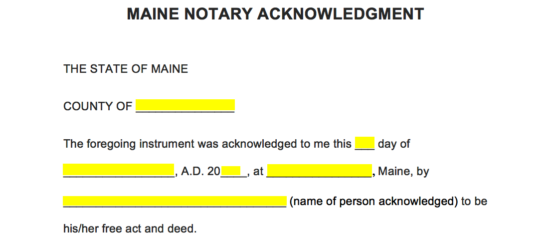 Step 3 – Below that, provide your handwritten signature, your printed name, the date of your commission's expiration, and your stamp or seal.