Updated January 06, 2023
A Michigan notary acknowledgment form is a document that a notary public uses to verify an individual's signature on a legal instrument. This procedure is sometimes required in order to verify that a document is being signed freely and authentically, often in regards to transactions of property. When the signer goes to have their document notarized, they will have to provide the notary public with a suitable ID so that they can be identified. Once the signer has been identified and the document has been verified, the notary public will notarize the document by filling out the notary acknowledgment form and providing their signature and seal.
Laws – § 55.287
Notary Public Information – Information on how to become a notary public and what their duties, regulations, and responsibilities are.
How to Notarize in Michigan
Step 1 – To get started, you will need to find a notary public who can notarize your document. Public notaries can be found at the services and institutions listed below.
Banks or Credit Unions (Huntington Bank has the most locations in the state)
Step 2 – Before you have your documents notarized, they should be filled out except for the signature fields. It is recommended that you be in front of the notary public when you sign.
Step 3 – Present yourself to the notary with a valid form of identification and declare your desire to sign your document(s).
Step 4 – Once your identity has been confirmed, you may sign the document(s) in the notary's presence.
Step 5 – After witnessing the signing of your document, the notary public will fill out a notary acknowledgment form, supplying their signature and notary credentials.
Verify a Notary in Michigan
Step 1 – In order to verify or find a notary in Michigan, you will need to navigate to the Notary Public Search page at the Michigan Department of State website.

Step 2 – Once the page has loaded, provide one or more of the pieces of information listed below.
Last name
First name
Notary expiration date
County of Commission
When you are ready, click Search to conduct a search using the criteria that you have provided.
Step 3 – You will be redirected to a list of your search results. On this webpage, you will see the name, county, appointment date, commission expiration date, and current status of every notary public in the state who matches the information that you entered into your search. By clicking View Details, you can view these details more closely.
How to Write (For Notary)
Step 1 – Obtain the Michigan Notary Acknowledgment Form. You can download it in the following three (3) formats:
Step 2 – Enter the name of the county in which the form is being signed.

Step 3 – Enter the name of the county again, the date, and the name of the person for whom the document is being notarized.

Step 4 – Supply your signature, printed name, job title, commission expiration date, and the name of your associated county.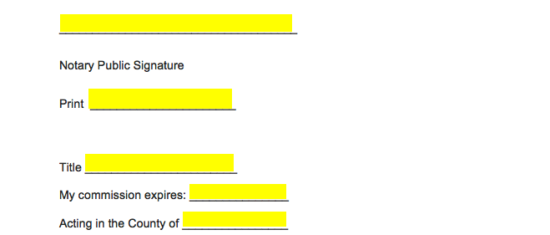 Step 5 – A stamp or seal is not required for Michigan notaries, but if you have one, you can put it where indicated at the bottom right corner of the form.