Updated January 06, 2023
A Mississippi notary acknowledgment form is a document that authenticates a signature. Some documents require notarization in order to certify the identity of the individual signing the document and their clear intention to do so. A public notary will witness the signing of a document before filling out the notary acknowledgment form, providing their signature and seal. Individuals may be required to obtain notarization for a transfer of property, for a living trust or will, a consent form, or a power of attorney form.
Laws – § 89-3-7
Notary Rules and Regulations – Details the responsibilities and requirements for notary publics in Mississippi and how to become one.
How to Notarize in Mississippi
Step 1 – To begin, you will need to find a notary; you can look in your telephone directory under "Notary Public" or consult the resources provided below.
Banks or Credit Unions – The bank with the most branches in your state is Regions Bank
Step 2 – Once you have found a notary public to notarize your legal document, you will need to arrange a convenient time to meet with them and have your notary acknowledgment provided.
Step 3 – Next, you will need to completely fill out your document. For a notary acknowledgment, it isn't required that you sign the document in front of them. However, any witnesses must sign at the same time as you and witness your signature. If there is no notary acknowledgment section in your document, you will need to attach the Mississippi Notary Acknowledgment Form (.doc, .pdf, .odt).
Step 4 – Bring your document and photo ID to the notary public. When you arrive, they will verify your identity before bearing witness to your signature/intention to sign. Sign the document in the presence of the notary if you haven't already.
Step 5 – If everything is in order, the notary public will fill out the Mississippi Notary Acknowledgment Form, including their signature and notary seal or stamp.
Step 6 – Once all of the above steps have been completed, your document will be notarized.
Verify a Notary in Mississippi
Step 1 – If you need to verify a notary public, navigate to the Notary Public Search page of the Mississippi Secretary of State's website.

Step 2 – Next, provide your search criteria before clicking Search.
First name
Last name
Employer
County
City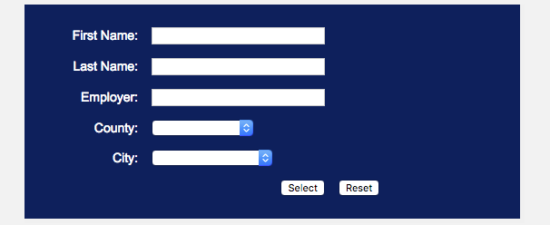 Step 3 – Once you have performed a search, you will be given a list of results that match your search criteria. You can navigate through the list by clicking Next. The list shows each notary's name, commission expiration date, ID number, county, telephone number, and employer/main address. If you are trying to verify a notary, their name should be on this list.

How to Write (For Notary)
Step 1 – Download the Mississippi Notary Acknowledgment Form as a Microsoft Word, Adobe PDF, or OpenDocument file.
Step 2 – Once you have obtained the form, you will need to provide the following information into the appropriate fields:
Name of associated county
The date
The name of the person signing the document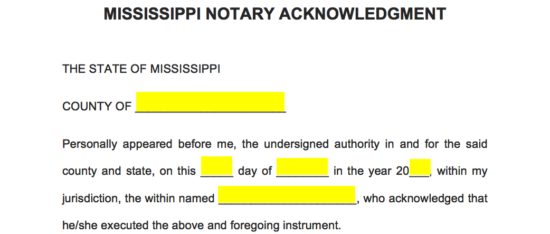 Step 3 – Below that, you will add your signature, printed name, and your notary seal or stamp in order to officially issue your notarization.