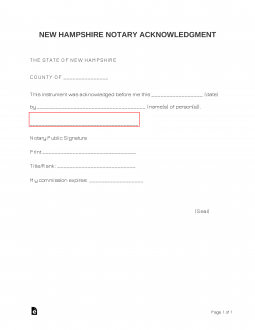 The New Hampshire notary acknowledgment form is a document which is used to verify the identity and signature for the signer(s) of certain legal instruments. In order to secure a notary acknowledgment, the signer must bring their completed document to the notary and prove their identity by supplying sufficient personal identification. If the document is signed in advance, the signer's signature on the document will be compared to the signature on their ID in order to be verified. Once the notary has been satisfied that the signer's identity and forms are authentic, they will be able to fill out the notary acknowledgment form and providing their notary seal or stamp.
Laws – §456-B:8
Notaries Public – A webpage provided by the Secretary of State which contains some basic information on how New Hampshire residents can become a notary and what a notary public's duties and responsibilities are.
How to Notarize in New Hampshire
Step 1 – To get started, one will need to find a notary. Notaries in New Hampshire can be found at one of the following options:
Step 2 – An appointment must be made with the notary and the legal document must be filled out by the signatory.
Step 3 – Upon arriving at the appointment with the notary, the signer will be asked to satisfactorily identify themselves.
Step 4 – Once the signer's identity has been verified and the document reviewed, the notary will fill out the notary acknowledgment form.
Step 5 – After affixing their signature and notary seal, the notary public will have notarized the signer's document.
Verify a Notary in New Hampshire
Step 1 – In order to verify or search for a notary online, navigate to the American Association of Notaries (AAN) notary search webpage.

Step 2 – Locate the search window and provide either the name of a "City" or a "Zip code" and area (in miles) to search. Next, click Search to continue.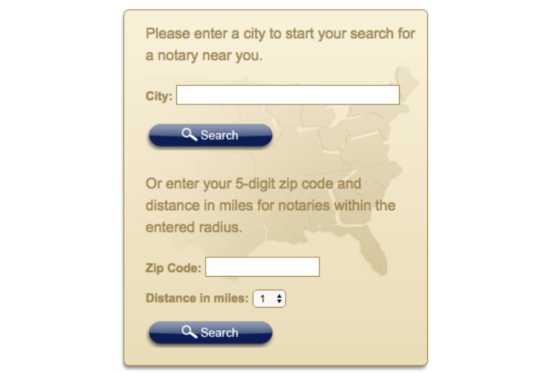 Step 3 – The subsequent page will reveal a list of search results displaying the notary publics who match the search parameters that you provided. Here, each notary's geographical location, name, and phone number are displayed. Clicking on a highlighted name will open that notary's individual information page.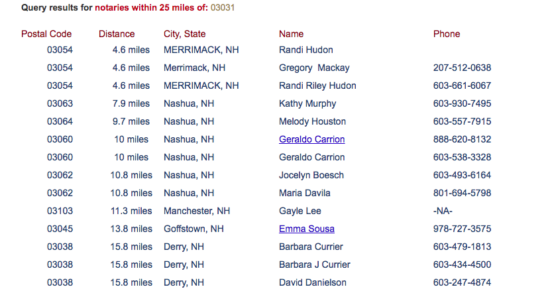 Step 4 – On a specific notary's information page, more detailed information is given regarding their commission details, contact information, and skills/qualifications.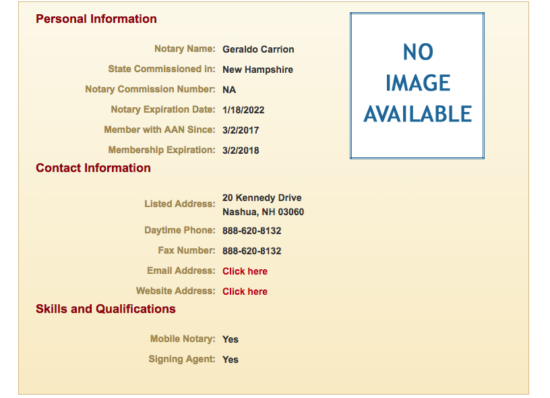 How to Write (For Notary)
Step 1 –  Download the notary acknowledgment form in one of the following formats:
Step 2 – At the top of the page, the notary's county, the date, and the name of the signer must be entered into the appropriate blank spaces.

Step 3 – Next, the notary must supply their signature, printed name, title or rank, commission expiration date, and notary seal or name.