Updated April 14, 2023
A New Hampshire bill of sale is a legal document between a buyer and seller for the transfer of personal property. The document acts as both a receipt and binding document that records a transaction (commonly for a motor vehicle).
After the sale is complete, the buyer will need to keep a copy for accounting and registration purposes.
Forms (4)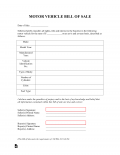 Vehicle Bill of Sale – To be used in the sale, purchase, and change of ownership of a motor vehicle in NH.

Download: Adobe PDF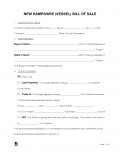 Boat Bill of Sale – One would use this form to properly document the sale, purchase, and change of ownership of a vessel/boat

Download: Adobe PDF, MS Word, OpenDocument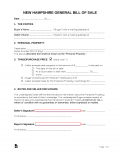 General Bill of Sale – This form is used, in most cases, between two private parties in the sale and purchase of personal items

Download: Adobe PDF, MS Word, OpenDocument
Gun Bill of Sale – Use this document to provide proof of a legal sale, purchase, and change of ownership  of a firearm

Download: Adobe PDF, MS Word, OpenDocument
Vehicle Registration Forms
Boat Registration Forms