Updated September 01, 2023
A South Dakota notary acknowledgment form is a document completed by a notary public in order to validate a signature on a legal document. The requesting party must personally appear before the notary public and present the documents requiring authentication. A notary public may authenticate both signatures which have previously been written and signatures that are provided in their presence. If the notary public believes that the individual is indeed the person mentioned within the instrument and that they are signing/have signed as an act of their own free will, the person's signature may be authenticated by the notary public via the notary acknowledgment form.
Laws – § 18-5-8
Notary Handbook – A guide to the State's standard operating procedures, complete with example acknowledgments, affidavits, and affirmation certificates.
How to Notarize in South Dakota (4 steps)
1. Find Notary
In order to have a signature authenticated by a notary public, you must locate a business or private officer offering this type of service. The following list will give you an idea of where a notary public can be found:
3. Show ID
It's the notary's job to make sure that you are most assuredly the person who should be signing the proposed documents. Therefore, you will be required to provide satisfactory evidence of your identity (e.g. state driver's license or other government-issued photo ID) and affirm that you are signing as an act of your own free will and deed.
4. Take Oath
At this point, the notary will ask that you acknowledge your previously written signature as your own. If you have yet to sign your documents, you will be required to provide your signature in front of the notary. The notary will authenticate your signature and finalize the notarization process by completing the notary acknowledgment form.
Verify Notary in South Dakota (3 steps)
Step 1
Navigate to the
Secretary of State
search portal dedicated to the verification of notaries public.

Step 2
Enter a notary's name in the empty search field. Below the field, you may use the drop-down menu to refine your search results to that of notaries in a specific city and/or county or a specific expiration date range. Click
Search 
to submit your search.

Step 3
Search results will display as a list at the bottom of the page. Clicking on a commission number will display further details pertaining to that notary.
How to Write (For Notary)
Step 1 – Download the South Dakota notary acknowledgment form by selecting one (1) of the following links: PDF, Microsoft Word, Open Document Text
Step 2 – In the first few fields of the form, provide the county name, date of acknowledgment, the name of the notary public, and the name(s) of the individual(s) requesting acknowledgment.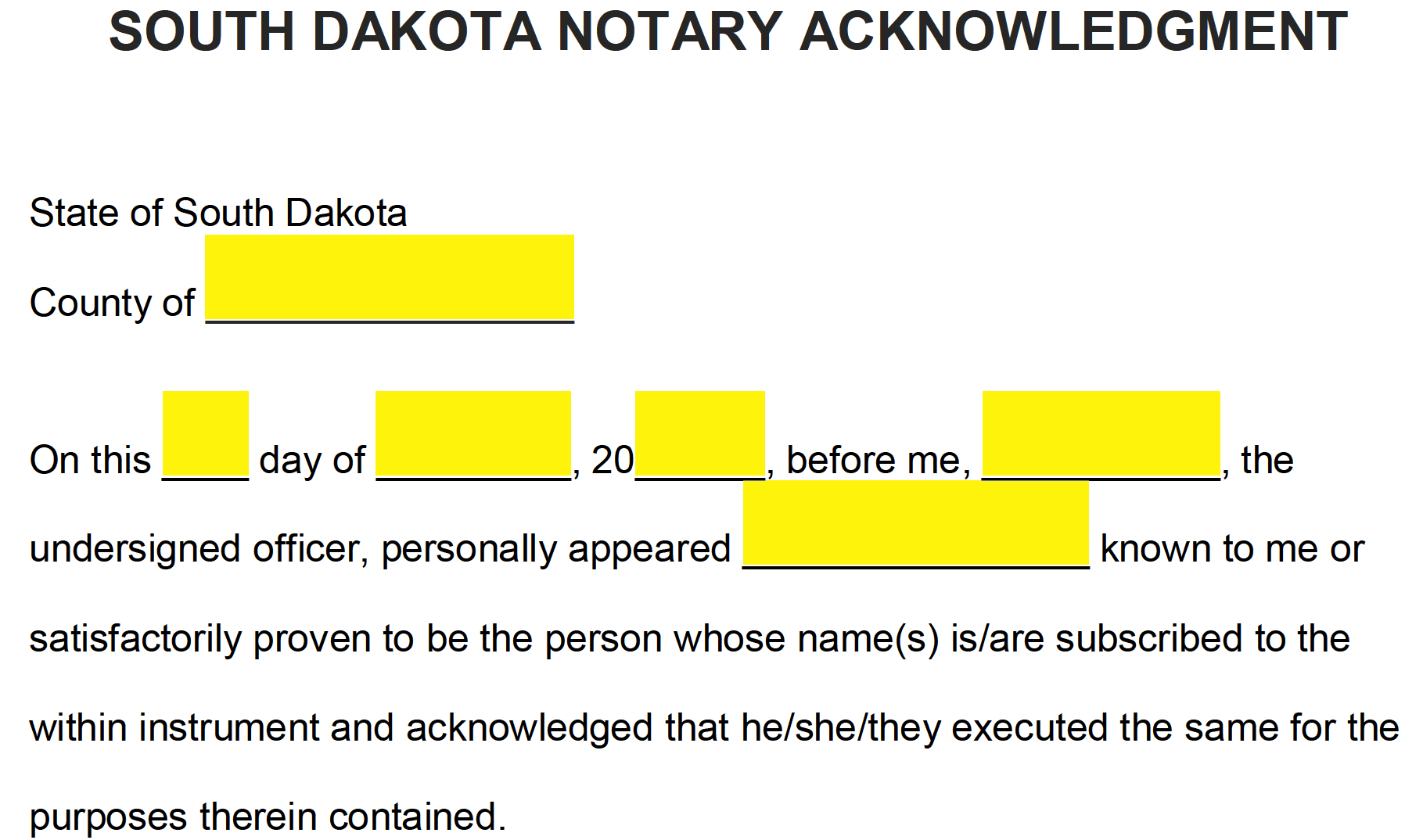 Step 3 – The notary must provide their signature in the appropriate space followed by their official title, commission expiry date, and seal.