Updated August 10, 2023
A California durable power of attorney form allows an individual to act in the place of someone else for financial-related affairs during their lifetime. The principal grants these powers to a trusted friend or relative called an agent. The agent can only act as the principal specifies and the agent has a fiduciary responsibility to act in the best interests of the principal. It should be noted that because it is considered "durable," the powers granted to the agent continue even if the principal becomes incapacitated.
Versions (5)
---
Download: PDF, MS Word, OpenDocument
---
Download: PDF
---
Download: PDF
---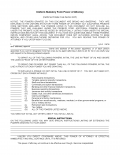 San Mateo County Law Library Version
Download: PDF
---
Download: PDF
---
Laws
PROB Division 4.5 (Powers of Attorney)
Definition of "Durable"
"Durable power of attorney" means a power of attorney that satisfies the requirements for durability provided in Section 4124 (§ 4018).
Definition of Power of Attorney
"Power of attorney" means a written instrument, however denominated, that is executed by a natural person having the capacity to contract and that grants authority to an attorney-in-fact. A power of attorney may be durable or nondurable (CA Prob Code § 4022).
Signing Requirements
The principal is required to have their signature acknowledged before a notary public. The agent only has to sign and does not need to have their signature notarized (CA Prob Code § 4402(c)).
Statutory Form
California's statutory durable power of attorney form can be found within Probate Code § 4401.
How to Write
Download: PDF
Section I. Party Information
(1)  Principal. The Party who intends to name and authorize a Representative to wield the same power he or she has must be identified as the California Principal at the beginning of this declaration. Notice, the Principal must have his or her residential address attached to this paperwork as well.
(2) Attorney-in-Fact. The Agent or Representative who shall wield the California Principal's authority is often referred to as the Attorney-in-Fact.  This process of identification necessitates the Attorney-in-Fact's address to be included.
Section II. Granting Principal Authority
(3) Power Selection. The California Principal may require representation in only certain affairs or in all areas of life. A list lettered "A" through "M" names each type of principal power that can legally be appointed to an Attorney-in-Fact in the State of California. To designate the Attorney-in-Fact with one or more (but not all) of these powers, the Principal must provide direct approval by initialing the appropriate line.
(4) All Principal Powers. The Principal can delegate all of his or her allowable authority in one fell swoop by initialing the last list item.
Section III. Special Instructions
(5) Principal Directives. The Attorney-in-Fact will be expected to be aware of and carry out the Principal's intentions at all times when he or she is wielding the granted authority. To this end, the Principal has the option to provide a set of specific instructions or even a general guideline directly using this template.
Section IV. Attorney-in-Fact Behavior
(6) Multiple Agents. If the Principal has named more than one Attorney-in-Fact in this document or in others (i.e. a medical power of attorney), then it is strongly recommended that the Principal determine if the Agent should be able to act independently write in "Separately' otherwise, the Attorneys-in-Fact will only be able to wield principal power when in agreement.
Section V. Granting Power By Signature
(7) Principal Signature Date. The day when the Principal formally executes this directive to be active in the State of California is mandatory.
(8) Principal Signature. The signature of the Principal is the only item that can set this document in motion and must be provided by the California Principal.
(9) Location Of Execution.   
Section VI. Acknowledgment Of Notary Public
(10) Notarization. The Principal's signature must be notarized. Only a Notary Public licensed in the State of California may notarize this document's signing once he or she has physically observed the Principal executing this paperwork.
Related Forms
---
Download: PDF
---
Download: PDF
---