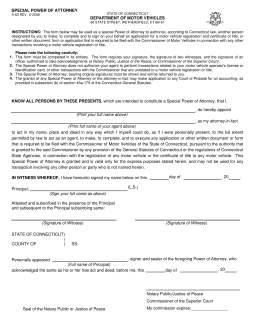 3.5 Stars | 2 Ratings
150 Downloads
Updated June 02, 2022
A Connecticut motor vehicle power of attorney (Form A-83) can be utilized by a vehicle owner to designate an individual with the representational authority required to act on his or her behalf regarding an owned vehicle (i.e. requesting a title, registration, etc.) with the Commissioner of Motor Vehicles including issues. Here, the agent granted with this power will be able to act with the same level of ownership authority the issuing owner possesses over the vehicle when dealing with this institution on the owner's behalf. It strongly recommended such power is only appointed to an individual who is both qualified and trusted enough to act in such a way by the vehicle owner.
How to Write
1 – Setting Up The Form
In order to obtain a blank workable copy of this form, you must select the preferred file format. Do so by selecting one from the choices displayed underneath the image on the right.
2 – Supply Party Information
Each party participating in the Appointment of Powers must be documented accurately.
On the first blank space, below the statement introduced with "Know all persons by these presents…," present the Full Name of the Car Owner or Granting Principal.

On the second blank space, enter the Full Name of the Agent being appointed Principal Authority over the Vehicle.
3 – Verify The Intent Behind The Required Language
The next paragraph will contain the wording and language that must be present in this document. This paragraph will set the actions and powers the Appointed Agent may enact as if he or she were the Principal. In order to verify the intent of this document is that of the Principal's the Principal/Grantor must supply a few items in the presence of a Notary Public.
The first item that must be supplied is the Date the Principal is signing this form. This may be done just below the required paragraph using the three blank spaces following the words "…my name below on this" by entering the Calendar Date on the first space, the Month on the second space, and the Year on the third space.
Next to the word "Principal," on the next line, the Principal must sign his or her Name in acknowledgment and agreement with this form.

The two blank spaces furnished after the paragraph starting with "Attested and…" are reserved for Witnesses who have observed the signing. Each one must Witness must sign his or her name on one of these spaces.

The heading "State of Connecticut" will indicate the area reserved for the Notary Public serving this signing with his or her seal and credentials.