Updated April 14, 2023
An Idaho advance directive, or 'Living Will and Durable Power of Attorney for Health Care', allows an individual to set forth their end-of-life treatment options and choose a medical agent. The instructions outlined in an advance directive are for health care planning in the event a person cannot think for themselves due to temporary or permanent incapacitation.
Advance Directive Includes
Part 1. A Living Will (A Directive to Withhold or Provide Treatment)
Part 2. Designation of Health Care Agent
Laws
Statute – Title 39, Chapter 45 (The Medical Consent and Natural Death Act)
Signing Requirements (§ 39-4510) – The principal is the only person required to sign but the State of Idaho recommends it be witnessed or notarized.
State Definition – (§ 39-4502(8)) – "Directive," "advance directive" or "health care directive" means a document that substantially meets the requirements of section 39-4510(1), Idaho Code, or is a "Physician Orders for Scope of Treatment" (POST) form or is another document which represents a competent person's authentic expression of such person's wishes concerning his or her health care.
Registering
If the principal, after completing the power of attorney document, would like to have it registered with the State of Idaho (at no cost) they may do so by requesting the Idaho Health Care Directive Registry Form from the Idaho Department of Health and Welfare's email address, [email protected]. Once completed, the principal must mail or deliver the documents to the address below.
Idaho Healthcare Directive Registry
450 W State Street, 4th Floor
PO Box 83720
Boise ID 83720-0036
Versions (4)
---
Download: Adobe PDF
---
Download: Adobe PDF
---
Download: Adobe PDF
---
Download: Adobe PDF
---
How to Write
Download: Adobe PDF
Idaho Principal Issuing Medical Directives
(1) Date Of Directive. The calendar date when the Idaho Principal or Idaho Declarant completes this document should be established.
(2) Name Of Person Executing Directive. The Patient who intends to deliver his or her medical instructions and appoint a Health Care Agent as a precaution against being incapacitated, at an end-of-life event, and unable to communicate with Idaho Physicians seeking his or her treatment directives should be identified. The Idaho Declarant behind the living will is not required to be a current Patient to issue his or her medical instructions through this document however it is strongly recommended that he or she consult with an Idaho-licensed Physician before doing so.
(3) Address Of Person Executing Directive. The home address or the address that identifies the Idaho Principal on his or her government I.D. and official medical paperwork (i.e. insurance) is required.
When In A Permanent Vegetative State Or Near End-Of-Life
Select And Initial Item 4, Item 5, Or Item 6
(4) Consenting To Life Prolonging Procedures. If the Idaho Declarant this document discusses intends to consent to the use of life support equipment and life-prolonging medical procedures employed by Physicians to keep him or her alive as long as possible then a definitive statement to this effect must be presented. The language needed for this is already provided and can be applied to this document once the Idaho Principal fills in the corresponding checkbox with an "X" or some other mark and initials the blank line displayed next to it.
(5) Limited Life-Prolonging Procedures. If the Idaho Declarant does not intend to consent to life support equipment or procedures used but wishes to remain well-fed and hydrated so that natural death will occur only as a result of reaching the end-stage of an illness or medical condition but not from starvation or dehydration, then the second declaration statement should be marked and initialed. This will also request that the Idaho Principal indicate if he or she wishes that only hydration be provided by selecting Statement A, if only nutrition should be provided by choosing Statement b, or if the Idaho Declarant wishes that his or her nutrition and hydration levels be maintained by selecting Statement C.
(6) Denying Life Prolonging Treatment. The Idaho Declarant has the option of denying both life support or life-prolonging procedures administered to medically prevent his or her end-of-life event and that artificial nutrition and artificial hydrations be withheld to hasten a natural death by selecting and initialing approval of the appropriate statement. This means that if the Principal is incapacitated and can no longer eat or drink safely while suffering a terminal (incurable condition) or because he or she is permanently unconscious then, Idaho Medical Staff will not seek to connect any tubes delivering food and water in any form. This does not mean that food and water will not be given to the Idaho Principal if he or she requests to be fed or hydrated at the time care is being administered.
POST Status
Select And Initial Item 7 Or Item 8
(7) Physician Signed Directive. If the Idaho Principal has met with a licensed Physician's Office to discuss, complete, and file his or her Idaho POST (Physician Orders For Scope Of Treatment), then this should be indicated by selecting and initialing the provided declaration.
(8) No Current POST. If an Idaho Physician and the Principal have not gathered to issue a POST, then select the statement reflecting this fact.
Durable Power Of Attorney For Health Care
(9) Name Of Health Care Agent. Many consider the appointment of a Health Care Agent to act as the Principal in making medical decisions with attending Physicians when the Principal is unable to communicate and has been diagnosed with an incurable medical condition or is comatose (permanently) to be a wise course of action. The Idaho Principal making this appointment should select someone who is aware of his or her basic treatment and medication preferences, is in general agreement and is capable of discussing the Principal's treatment options with Idaho Physicians. When the identity of the Idaho Health Care Agent is settled, record his or her name where requested. This Party's contact information will also be required in the same area, since the Idaho Health Care Agent will be contacted by Physicians if the Principal cannot understand or answer their questions well enough to give informed consent(s) to needed treatment.
(10) Address Of Health care Agent.
(11) Telephone Number Of Health Care Agent.
Statement Of Desires, Special Provisions, And Limitations
(12) Direct Principal Instructions. This document shall grant the maximum amount of principal authority a Health Care Agent may have at his or her disposal as allowed by Idaho State Law and Federal Law when making treatment decisions for the Principal he or she is representing. This is not mandatory. The Idaho Principal can restrict some decisions from the Health Care Agent's ability, may insist that the Agent consults with a specific Party, may deliver specific treatment instructions that override the Health Care Agent's principal treatment decisions, and,/or even set a specific date of effect and termination. The Principal's discretion and preferences are only limited by Idaho State Law when it comes to his or her medical treatment thus, if any provisions should be applied to the Idaho Health Care Agent's principal powers, they must be documented where requested. While ample room is provided, the Principal's instructions or decisions can be continued on an attachment as needed.
Alternate Agents
(13) First Alternate Agent. Naturally, the Idaho Principal will rely heavily on the Health Care Agent he or she appoints. This can leave the Principal in a decidedly vulnerable position if he or she is unable to speak with Idaho Doctors, requires his or her Health Care Agent's representation, and the Agent is either unwilling or unable to consult with Idaho Doctors on the Principal's behalf. Setting up a few Alternate Agents that can be approached successively (in the order named) to assume the responsibilities and principal authority of an ineffective Idaho Health Care Agent is a reasonable precaution to take. Name the first Party that can be contacted by Idaho Doctors when the Principal's Health Care Agent does not, can not, or will not represent the Principal effectively as the First Alternate Agent. Remember, when this Party is contacted by Idaho Doctors, it will be because the original Health Care Agent has failed so it is especially important that his or her address and telephone number are recorded accurately and remain up-to-date.
(14) Second Alternate Agent. As mentioned earlier, this form allows for multiple Alternate Agents to be set up to take the place of the Health Care Agent. If the First Alternate has declined to take the Health Care Agent role for the Idaho Principal then, the Second Alternate Agent named in this document with his or her contact information can be given the principal authority of speaking with Idaho Physicians to consent or refuse the treatment options available for the Principal's medical condition.
(15) Third Alternate Agent. If neither the First Alternate Agent or the Second Alternate Agent are able to act as the Idaho Principal's Health Care Agent, Physicians in this state can be given a Third Alternate Agent to contact in hopes of receiving the Principal's medical preferences through his or her formally appointed Idaho Health Care Agent. To name a Third Alternate Party to the Idaho Health Care Agent role, record his or her name where requested along with his or her address and telephone number. Bear in mind, that (unless you indicate otherwise) only one Party will be able to act as your Idaho Health Care Agent at a time. Therefore, both the previously named Parties to this role must be deemed ineffective or disqualified before the Third Alternate Agent can be appointed as your Idaho Health Care Agent.
Date And Signature Of The Principal
(16) Signature. The Idaho Principal must sign his or her name, record the current date, and dispense the city and state of his or her place of residence to the final line on this form. All attachments containing the Principal's instructions must be present and accounted for before this action occurs. Furthermore, while not required, signing this document before a Notary Public will greatly add to its validity since this Party can notarize the Principal's signature as proof that he or she signed this paperwork into effect.
Related Forms
---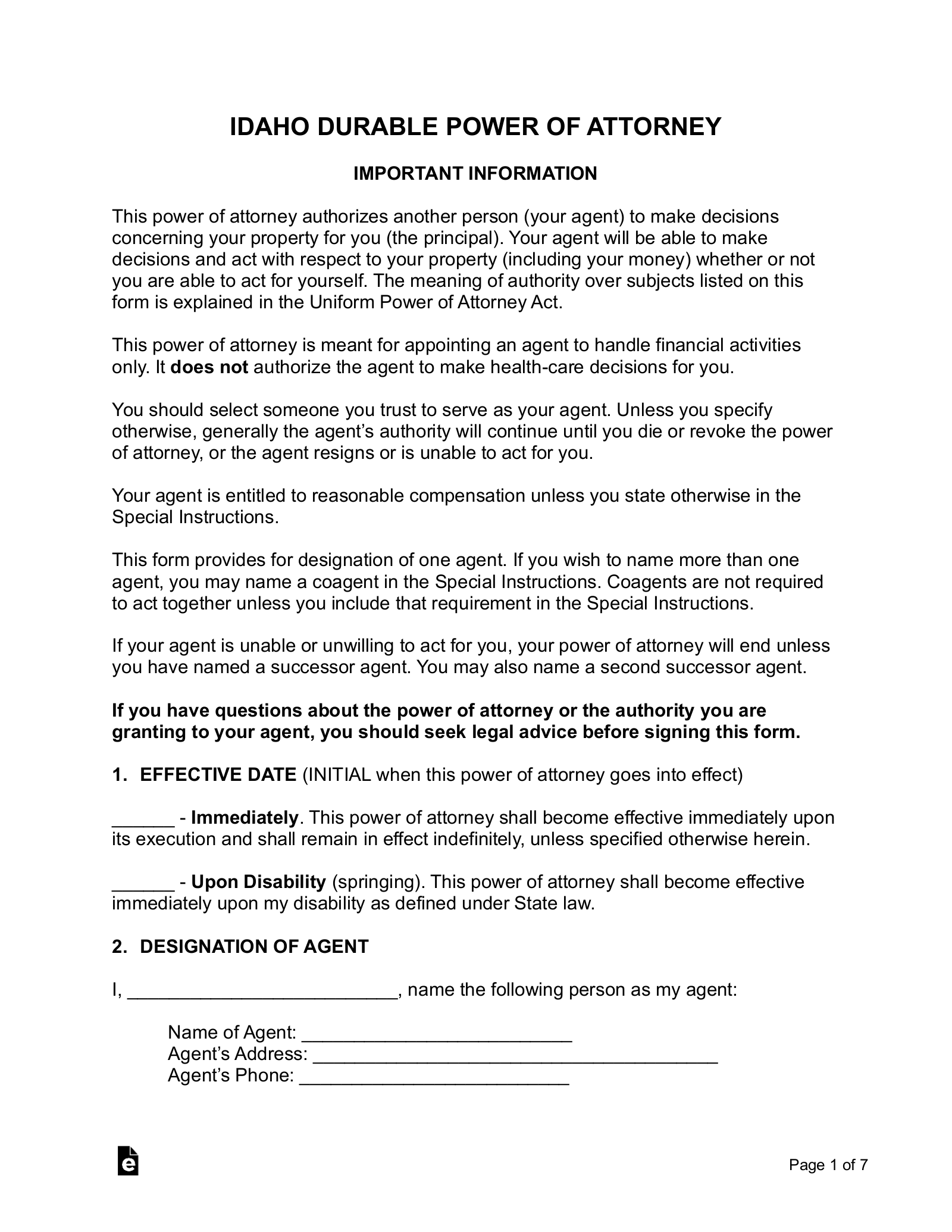 Durable (Financial) Power of Attorney
Download: Adobe PDF, MS Word, OpenDocument
---
Download: Adobe PDF, MS Word, OpenDocument