Updated January 14, 2023
A Louisiana motor vehicle power of attorney can be used when one person would like help from another person with titling and registration of their motor vehicle in Louisiana. The selected representative may be able to transfer title, register the vehicle, or perform other acts on behalf of the principal to the Office of Motor Vehicles.
Office of Motor Vehicles – Location Finder
How to Write
1 – The Form To Deliver Principal Power Over A Motor Vehicle Should Be Obtained Here
The form necessary to appoint an Agent with the same Principal Authority, as that of the Vehicle Owner, over that Vehicle may be opened and saved using any of the buttons below the preview image on this form.
2 – The Identities Of The Individuals Involved With Vehicle Authority Must Be Documented
In the first paragraph, locate the blank line before the word "I" and the term "a resident of the full age" then, enter the First, Middle, and Last Name of the Principal Owner of this Vehicle.

Next, enter the individual who will accept and assume Principal Authority over the Principal's Vehicle in the empty space between the term "…constitute and appoint" and the words "a resident of the full age." Make sure this is the Full Legal Name of the Agent accepting Principal Authority. The next blank space between the words "…majority of" and "to be my true" requires the name of the Parish or County where this Agent resides.

3 – The Specifics Regarding The Vehicle Must Be Reported
Next, use the blank line (after the dollar sign) to report the amount of money required for the Principal to authorize a transfer or sale of the Title to another party through the Agent's use of Principal Authority.

The blank line below the initial paragraph will be divided into several areas, all meant to define the Vehicle. Use these areas to enter the "Year," "Make," "Model," "Body Type," and "VIN # (Vehicle Identification Number)" of the Vehicle.

4 – The Vehicle Owner's Notarized Dated Signature Will Execute This Document
The end of this Authority Template will require the "Date of Signature" and the Principal Vehicle Owner's Signature on the blank lines labeled "Date" and "Titled Owner" (respectively)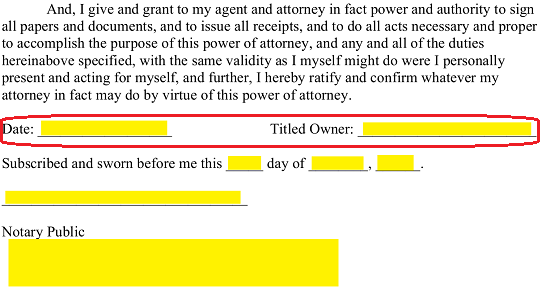 The blank spaces in and below the statement beginning with the words "Subscribed and sworn…" is strictly for the use of the Notary Public attending this Power Appointment's Principal signing.