Updated January 09, 2023
A Minnesota motor vehicle power of attorney form is a document that a vehicle owner can use to appoint someone else to handle matters involving their motor vehicle with the Minnesota Department of Public Safety, Driver and Vehicle Services Division. This is a type of limited power of attorney and is only effective for registering and titling a motor vehicle in Minnesota.
How to Write
1 – Open the Motor Vehicle Authority Form On This Page
The form required can be accessed using the buttons under the form image on this page. Open the form in the file type you prefer.
2 – Identify The Vehicle Owner And Appointee
The main paragraph will allow the Principal to declare his or her intention of appointing an Attorney-in-Fact with Principal Authority over the vehicle this document focuses on. Enter the Full Name of the Vehicle Owner delegating this Power of Authority on the first blank line.

On the second blank line, record the Name of the Agent who will assume Principal Authority over the Vehicle Owner's vehicle. 

Now locate the word "Note" (printed in Bold). if the Principal is an individual, then document his or her Birth Date using the first three lines following the phrase "Date of Birth." Once this task is completed, enter the Principal Vehicle Owner's Social Security Number using the last three blank lines in this statement. If the Principal is a Business Entity, leave this statement blank and proceed to the next one. 

If the Vehicle Owner delegating Power through this form is a Business Entity, then enter its Federal Entity Identification Number on the blank space following the phrase "Federal ID Number"

3 – Have This Vehicle Inspected By A Licensed Technician
The second page of this form will need to be filled out by a Licensed Technician inspecting the Vehicle. This entity will need to fill in the Address where the Vehicle Inspection has taken place, the Vehicle's Year, Make, Model Style, VIN #, Odometer #, the Owner's Name and Address, the Station's Name and Address, His or her Certified Technician Name and Number, and his or her signed and printed Name in the table provided. Below this will be an area where the Technician may note the safety of the Vehicle.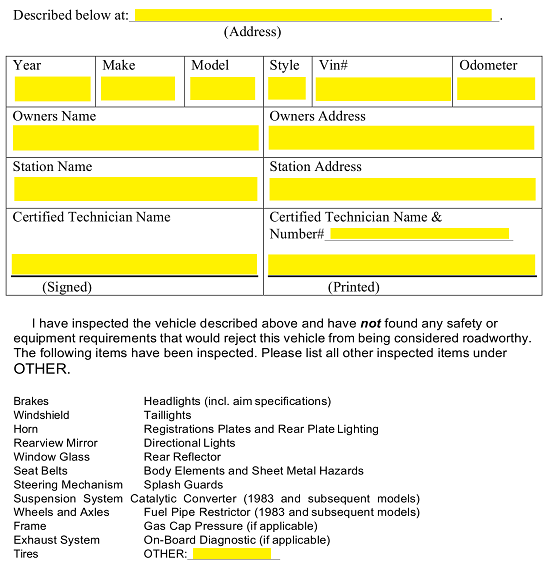 4 – The Principal Must Sign This Form Before A Notary Public
The blank line following the words "Signed By" near the top of the Page should be signed by the Vehicle Owner once all these tasks are completed.

The section below the words "State of Minnesota" (on the first page) will need the attention of the Notary Public viewing this appointment document's Principal Signing. He or she will note the location, date, and parties present at the Principal's Signing then, provide his or her credentials and Seal of Notarization.