Updated January 11, 2023
A Wisconsin Motor Vehicle Power of Attorney Form provides a very specific delegation of some of the authority you hold over your vehicle to another person. This document is geared towards allowing an agent to handle the administrative requirements of transferring a title or registering a motor vehicle in the State of Wisconsin with the Wisconsin Division Of Motor Vehicles. Before your agent attempts to handle such tasks for you, the Wisconsin DMV must be informed and approve of your intention to allow the agent to perform such actions with your vehicle. The template on this page will allow you to quickly present this information for approval.
How to Write
1 – Principal Powers Over A Wisconsin Vehicle May Be Delegated Through This Form
The form on this page will act as a reliable tool for designating an Agent in Wisconsin with Principal Power over a Vehicle. This form is available as a PDF through the image on this page or the PDF button beneath it
2 – Submit This Paperwork And The Vehicle To A Licensed Professional
The second page of this document will have several areas where requested information must be provided. Only a licensed Technician or Mechanic may complete this page. He or she will supply some information to identify the Vehicle, the Vehicle Owner, the Inspection Station, and his or her Credentials. Make sure the Mechanic/Technician supplies this information on the second page and signs it.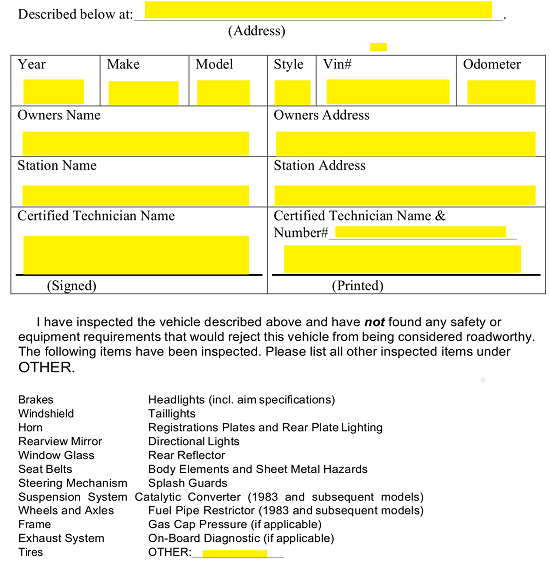 3 – Complete The Terminology In The Declaration Statement
The main paragraph of this Vehicle Authority appointment form will seek only two pieces of information. Use the blank line at the beginning of this statement to report the Name of the Vehicle Owner or Principal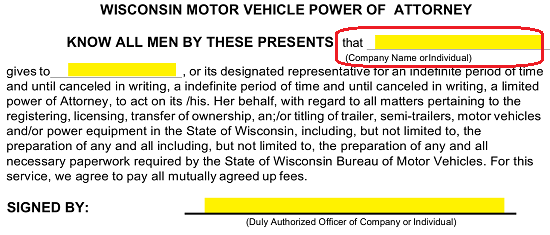 Submit the Full Name of the Agent or recipient of Principal Vehicle Power to the second empty space of this statement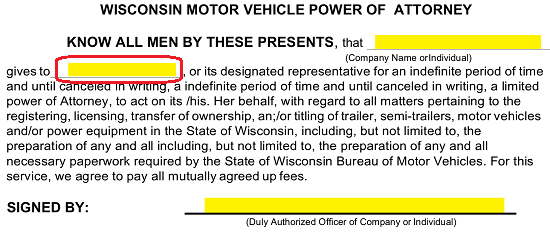 4 – The Principal Signature And Self-Report Are Mandatory Items
The Owner of the Vehicle (defined on the second page) must formally deliver Principal Authority by Signing this document. If the Vehicle Owner is a Company or Business then, an Authorized Representative of that Business will be expected to sign his or her Name. The Vehicle Owner's Signature should be supplied to the line attached to the parentheses label "Duly Authorized Officer Of Company Or Individual"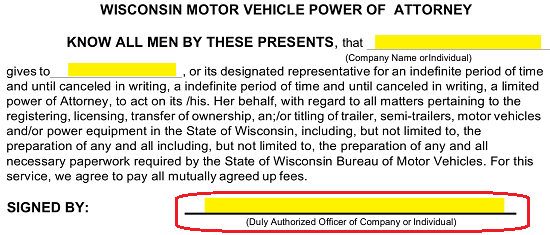 The Grantor of this type of Principal Authority will need to identify whether he or she is a private Vehicle Owner (a person) or is an Authorized Representative of a Business that owns the Vehicle. This will be done while simultaneously supplying some additional information. If the Principal is a person then his or her Birthdate and Social Security Number should be presented in the preformatted areas in the statement beginning with "If This Power Of Attorney Is In An Individual's Name…"

If the Vehicle Owner is a Business then enter its Federal Identification Number on the blank line in the statement beginning with "If This Power Of Attorney Is In A Company Name…"

Once the information to this template has been successfully input and it has been signed properly by the Principal Vehicle Owner, it must be notarized. An area near the bottom of this page will contain the wording a Notary Public requires for a successful notarization process