Updated September 19, 2023
A Colorado property management agreement is used when a property owner hires a manager or management company to control and operate their real estate. In most cases, the manager will be a licensed real estate agent with the legal capacity to act on the owner's behalf and collect rent, negotiate leases, advertise rental units, hire labor for repairs, and perform other duties requested of them by the owner. Payment to the manager is commonly provided in the form of a monthly fee or a percentage of the collective monthly rent.
Laws
Requirements (§ 12-10-201) – Property managers are required to have a real estate license if they engage in activities that fall under the State's definition of a real estate broker (see § 12-10-2011(6)(a)). This requirement does not apply if the manager is an on-site employee of an owner of an apartment building, apartment complex, or condominium. However, the on-site manager may only perform "customary duties" such as repairs and general property upkeep (§ 12-61-101(2)(b)(XII & XIII).
Verify a Property Manager– Colorado Department of Regulatory Agencies
Sample Agreements (3)
---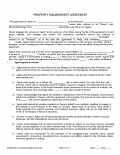 MAXIM 4000 
Download: PDF
---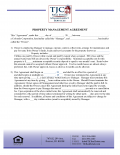 TJC Real Estate & Management Services
Download: PDF
---

Gunnison Real Estate and Rentals
Download: PDF
Management Forms (4)
---
Download: PDF, MS Word, OpenDocument
---
Download: PDF, MS Word, OpenDocument
---
Download: PDF, MS Word, OpenDocument
---
Download: PDF, MS Word, OpenDocument