Updated November 20, 2023
A Colorado lease agreement is written between a landlord and tenant to make a formal contract for the renting of commercial or residential property. It's recommended that the landlord obtain the tenant's personal information in order to properly run a credit and background check and to know if they are credible to pay rent on a monthly basis.
Rental Application
– A tool used by the landlord to obtain the tenant's personal information and consent to run a background check and credit report.
Agreement Types (6)
Standard Lease Agreement – Fixed-term arrangement with a start and end date. Typically for one year.

Download: PDF, MS Word, OpenDocument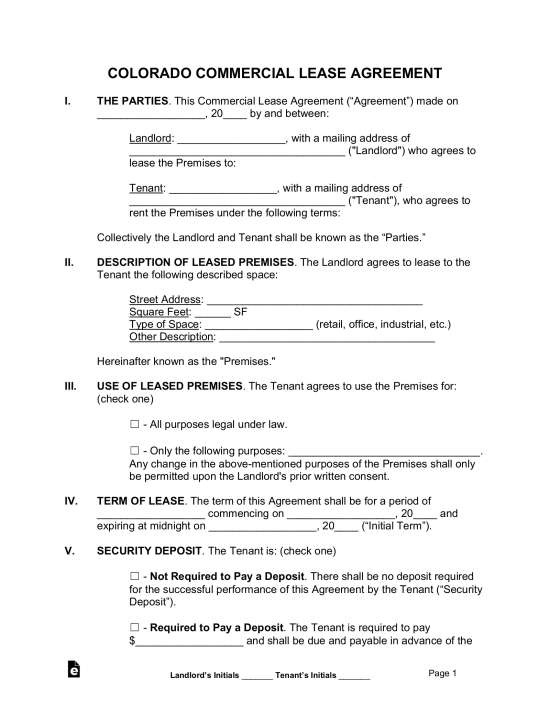 Commercial Lease Agreement – For the use of any type of non-residential property, including but not limited to land, office, retail, industrial, and storage space.

Download: PDF, MS Word, OpenDocument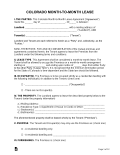 Month-to-Month Lease Agreement – Known as a "tenancy at will," which allows the tenant and landlord to have a basic rental arrangement with no end date. The contract is canceled by sending a notice to the other party.

Download: PDF, MS Word, OpenDocument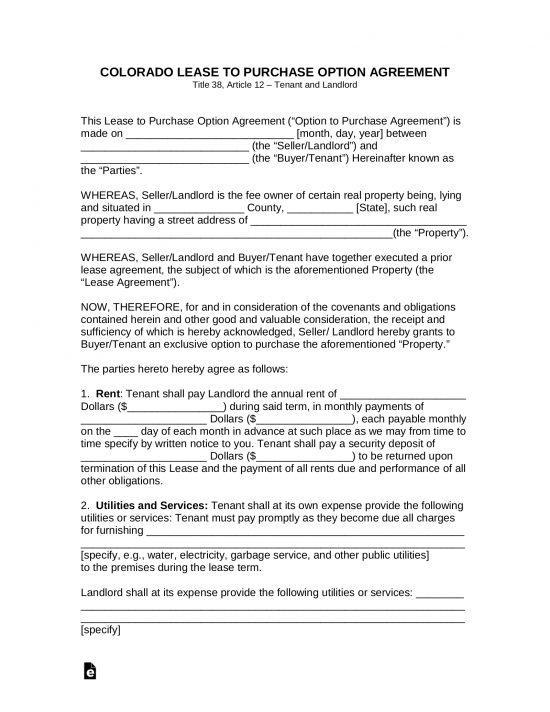 Rent-to-Own Lease Agreement– Standard residential lease template with the added option of being able to purchase the premises.

Download: PDF, MS Word, OpenDocument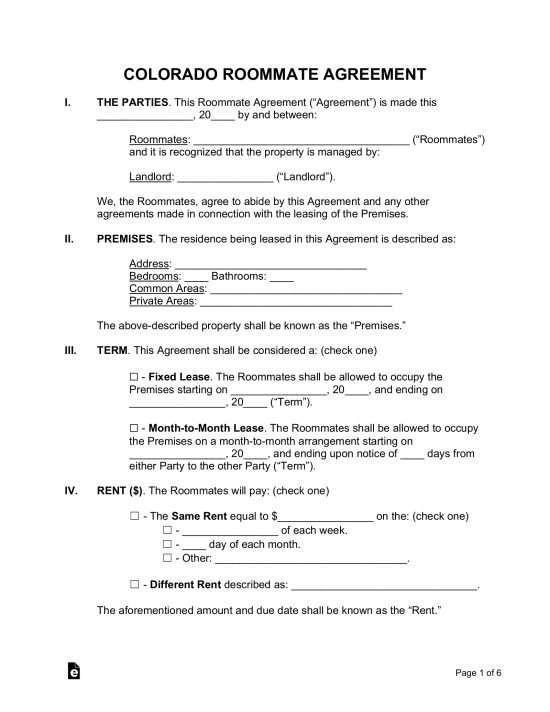 Room Rental (Roommate) Agreement– Contract amongst roommates to clarify payment, cleaning, and everyday responsibilities of the rental unit.

Download: PDF, MS Word, OpenDocument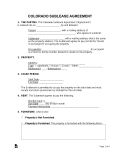 Sublease Agreement – Allows a subtenant, with the written consent of the landlord, to take over another's lease.

Download: PDF, MS Word, OpenDocument
Required Disclosures (2)
Lead Paint Disclosure – Under federal law, required for any housing structure built prior to 1978.
Radon Disclosure – Requires landlords to disclose any knowledge of radon concentrations at the property and issue a warning statement on the dangers of radon to prospective tenants.[1] In addition, landlords must provide tenants with a copy of the Deptartment of Public Health & Environment's brochure on radon and real estate.
Security Deposit
Maximum – A landlord may not require a security deposit exceeding two month's rent.[2] Additional pet deposits may not exceed $300 as of July 1, 2024.[3]
Collecting Interest – Landlords are not legally required to pay interest on the tenant's security deposit.
Returning – The landlord must send payment within one month if the lease does not mention a return timetable. If the lease does specify a return deadline, it cannot be more than 60 days.[4]
If the lease was broken due to a hazardous condition because of gas equipment tenant should receive their money within 72 hours.[5]
When is Rent Due?
Grace Period – There is a seven day grace period for late rent in Colorado. No penalties on rent can be charged until the eighth day.[6] If the tenant does not pay on the eighth day, the landlord can issue a 10-day notice to quit.
Maximum Late Fee ($50 or 5%)  – Landlords can charge a late fee of $50 or 5% of the amount of past due rent, whichever is greater, provided that the late fee is disclosed within the lease agreement.[7][8]
NSF Fee – A landlord may charge up to $20 for a bounced check.[9]
Withholding Rent – Landlords are obligated to ensure that a rental property is fit for human habitation.[10] If a tenant provides notice of issues in breach of the warrant of habitability and the landlord does not respond appropriately, the tenant can deduct the cost of repairs from rent payments.[11]
Right to Enter (Landlord)
There are no rules regarding a landlord's entry in Colorado. It is recommended that a landlord give
24 to 48-hour notice
prior to a non-emergency entry.
Abandonment
Absence – A rental property is considered abandoned if, before the completion of the lease term, the tenant returns the keys, provides notice, removes their belongings, or is absent for an extended period without paying rent.[12] Landlords can reclaim abandoned property in Colorado without going to court.
Breaking a Lease – If a tenant breaks the lease early without a valid justification (such as military service), the landlord is entitled to collect rent for the remainder of the lease term. No statute requires landlords to mitigate damages by promptly re-renting the property, though doing so is a best practice.
Tenant's Utility Shutoff – While the law does not specifically require tenants to maintain essential utilities, tenants must use the premises, including electrical and other essential facilities, in a reasonably clean and safe manner.[13]
Unclaimed Property – Property left behind by a former tenant is presumed abandoned after 30 days.[14] At least 15 days before disposing of or selling the items, the landlord must attempt to notify the owner.[15]
Sources