Updated September 19, 2023
An Illinois property management agreement allows the owner(s) of real estate to grant another individual permission to manage their property. A properly executed agreement ensures that the parties understand and consent to the responsibilities assigned to the manager and the financial terms of the contract. With most management agreements, the property manager will collect a commission from each rental property under their supervision. However, a flat fee may be more appropriate for the management of a single tenant-occupied property or a vacant rental unit.
Laws
Requirements (225 ILCS 454/1-10 & 225 ILCS 454/5-5) – Property managers must obtain a real estate license if they perform duties that are classified as "broker" activity. These duties include negotiating leases with prospective tenants, advertising rental property, and supervising the collection of rent. Illinois also offers a "residential leasing agent license" that can be attained more easily than a broker's license but provides a limited scope of authority.
Verify a Property Manager – Illinois Department of Financial and Professional Regulation
Sample Agreement
---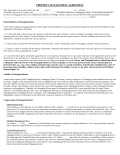 Gribble Real Estate Services, Inc.
Download: PDF
---
Management Forms (4)
---
Download: PDF, MS Word, OpenDocument
---
Download: PDF, MS Word, OpenDocument
---
Download: PDF, MS Word, OpenDocument
---
Download: PDF, MS Word, OpenDocument