Updated September 19, 2023
A West Virginia property management agreement is a document that outlines the obligations and responsibilities of a property manager hired by an owner of real estate. This agreement lists the duties and tasks that are to be performed by the property manager as well as the length of the arrangement, termination options, owner's rights and responsibilities, and key information pertaining to the property itself. It is common for the parties to settle on a one (1) year agreement and extend it after that year if the relationship is successful. Once the contract is signed, it becomes legally binding upon the parties.
Laws
Requirements – Anyone engaged in acts related to property management is required to carry a broker's license. In accordance with § 30-40-4(c)(1), managing property is included in the definition of a real estate broker. And § 30-40-3 states that anyone carrying out real estate broker acts must first obtain a license.
Verify a Property Manager – www.arello.com
Sample Agreements
---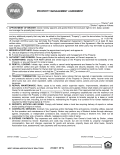 West Virginia Association of Realtors
Download: PDF
Management Forms (4)
---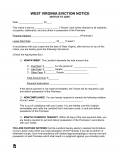 West Virginia Eviction Notices
Download: PDF, MS Word, OpenDocument
---
West Virginia Lease Agreements
Download: PDF, MS Word, OpenDocument
---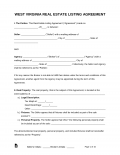 West Virginia Listing Agreements
Download: PDF, MS Word, OpenDocument
---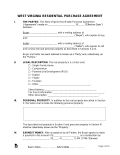 West Virginia Purchase Agreements
Download: PDF, MS Word, OpenDocument