Updated July 28, 2023
A Hawaii land contract serves as a legal document in which a buyer and seller of vacant land record important details of the transaction. Both parties must include relevant information regarding the land/lot and the sale, such as the agreed-upon purchase price as well as the land's legal description as written on the deed. Upon accepting the terms, both parties will sign the contract in order to execute the transfer of ownership. The seller will then sign the deed over to the new owner of the land/lot.
Realtor Version
---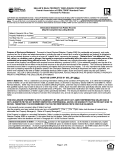 Hawaii Association of REALTORS Version (Standard Form)
Download: PDF
Description for Vacant Land (for use in REALTORS Version): 
All that certain fee simple (or leasehold) property consisting of vacant land, zoned being Lot # ______ of the _________ Subdivision, together with any existing improvements.
Related Forms
---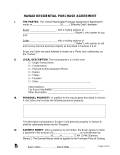 Residential Purchase Agreement
Download: PDF, MS Word, OpenDocument
---
Download: PDF, MS Word, OpenDocument