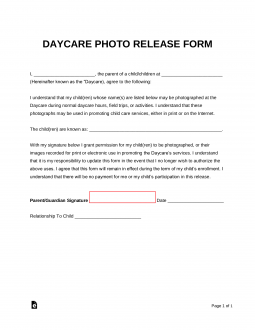 A Daycare Photo Release Form indicates the consent of parent or guardian to allow a photographer to photograph their children while at daycare, on fields trips, or during activities. A parent signs the document with an understanding that the photographer may use the image(s) to promote child care services only, either in print or on the internet. The form will remain in effect during the child's enrollment at the daycare or until the parent or guardian wishes to terminate the photographer's authorization to use the photo(s). No payment will be issued for the child's participation in this release.
Elements of a Daycare Photo Release Form
All people – even the very youngest – have a legal right to privacy. So, signed photo releases are a must for any daycare that wishes to photograph its students. The daycare photo release is a standard form that grants permission for the use of still images for marketing and other purposes. It should contain the name of both child and parent/guardian, the daycare in question, and a signature and date.
This is a general authorization that does not expire. However, a parent or other legal guardian may revoke the release at any time.
How to Grant Permission
1. Assign release form as homework
Even if there are no set plans to take photos, it is wise to request releases for every child. This form can be passed to parents as "homework" when their children enroll. Remember that permission is requested not required – so parents' wishes to opt out should be honored.
2. Obtain parent's signature
This form requires signature form a parent or other legal guardian. When requested, a copy of the form can also be provided to the family.
3. Store document in student records
This form should be filed with a student's other records.
4. Begin taking photos
Only consenting students should be photographed. This can create some administrative hassle – but honoring privacy rights is both a legal requisite and the right thing to do.
Since photo releases are optional, daycare centers should be sensitive in their photographing choices. Take few pictures, use them selectively, and reward parents for signing releases by using photos for community-building too. Some centers publish monthly newsletters or select a child-of-the-week, using recent pictures to add flair to publications.