Updated September 01, 2023
A pet addendum gives permission to allow the tenant to have pets on the rental property. It requires the tenant will be responsible for their pet(s), requiring that they keep their animals under control, that they do not make an excessive disturbance on the property, and that the pet owner is responsible for any property damage by the pets.
Animals for Emotional Support
In accordance with Federal law (42 U.S. Code § 3604(e)), a landlord cannot charge their tenant a pet fee if the animal is used for emotional support.
If the animal is not used for emotional support, the landlord can charge as much as desired unless their State imposes a maximum limit.
By Type (4)
---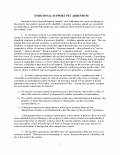 Emotional Support Pet Addendum
Download: PDF
---
Download: PDF
---
Download: PDF
---
Download: PDF
---