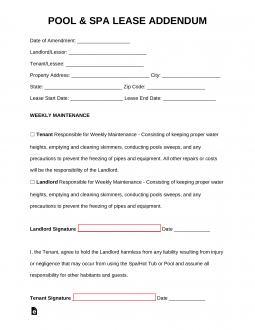 The pool and spa addendum is an attachment to a lease agreement that is created in order to identify the rules on the property regarding the usage of a pool and/or spa. The form may be used for a private or shared pool, including any spa/hot tub/jacuzzi, and states who will be responsible for its weekly maintenance. In addition, the addendum does not hold the landlord responsible for any injury or negligence related to pool use on the part of the tenant and/or their guests. Therefore, this form serves a dual purpose; it lays out the rules of pool use and it exempts the landlord from any legal responsibility for any pool-related injury or damage.
(Video) What is a Pool and Spa Lease Addendum?
How to Write
Step 1 – Download in Adobe PDF, Microsoft Word (.docx), or Open Document Text (.odt).
Step 2 – At the top of the form, the following information must be entered into the appropriate spaces:
The date
Landlord's name
Tenant's name
Property address
Lease start and end dates
Step 3 – Next, select either "Tenant" or "Landlord" as the person responsible for weekly pool/hot tub/spa maintenance.
Step 4 – At the bottom of the first page, the landlord and tenant are required to provide their signature and the date.
Step 5 – On the second page of the form, the landlord should enter the hours that the spa/pool/hot tub is open for use (if applicable).