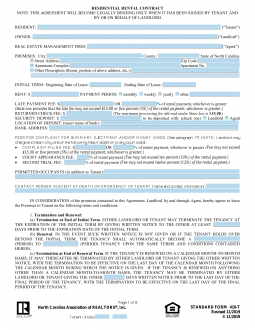 4.8 Stars | 10 Ratings
247 Downloads
Updated June 13, 2022
A North Carolina Association of Realtors lease agreement is a contract written by a Realtor for a rental arrangement between a landlord and a tenant. The Realtor will represent either the landlord or tenant and will be in charge of showing the property, negotiating the lease, and performing a credit check through a rental application. After the Realtor delivers the tenant's credit information to the landlord, and if approved, a lease will be written and signed.
Laws – Chapter 42 (Landlord and Tenant)
Handbook – Landlord/Tenant Law (PDF)
Disclosures
Lead-Based Paint Disclosure – Required by federal law for any residence that was built prior to 1978.
Security Deposit Receipt (§ 42-50) – Required to be given to the tenant within thirty (30) days if a security deposit was required as part of the lease.