Updated August 08, 2023
A North Carolina lease agreement is a contract created for the renting of property between a landlord and tenant. The agreement may be used for residential or commercial purposes and, once signed, become legally binding to both parties.
Rental Application
– May be used for verification by a landlord to check a tenant's employment and income.
Agreement Types (7)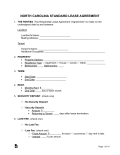 Standard Residential Lease Agreement – Provided by the Apartment Association of North Carolina for fixed tenancies of one year.

Download: PDF, MS Word, OpenDocument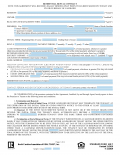 Association of Realtors – A standard lease provided by the North Carolina Association of Realtors to be used by a licensed realtor.

Download: PDF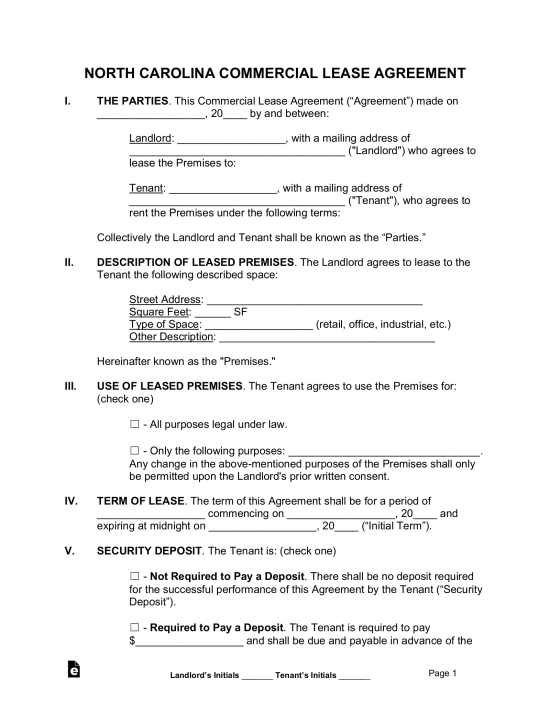 Commercial Lease Agreement – For space that is utilized for a professional service or retailer.

Download: PDF, MS Word, OpenDocument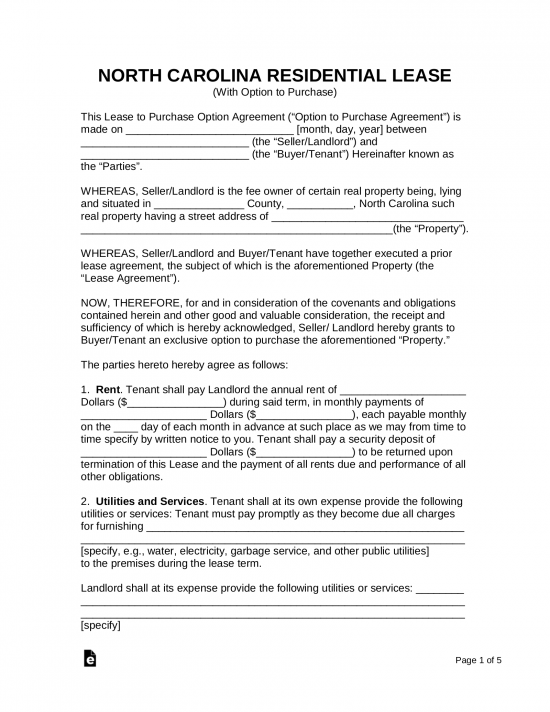 Lease with Option to Purchase Agreement – Standard form that also allows the chance for the tenant to buy the property on agreed-upon terms from the landlord.

Download: PDF, MS Word, OpenDocument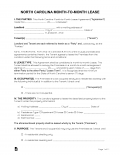 Month-to-Month Lease Agreement – Under § 42-14, a tenant may terminate this type of tenancy with at least seven days' notice.

Download: PDF, MS Word, OpenDocument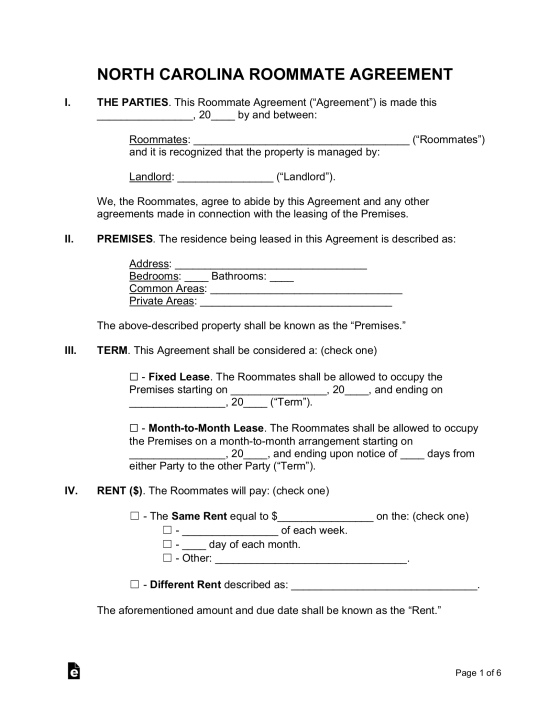 Room Rental (Roommate) Agreement – A form that binds the individuals sharing a common housing structure to tasks, such as cleaning, and how much each shall have to pay for bills, rent, etc.

Download: PDF, MS Word, OpenDocument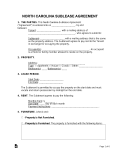 Sublease Agreement – The act of a tenant letting someone else use their property until the end of their term on the property.

Download: PDF
Required Disclosures
Lead-Based Paint Disclosure – Federal law requires all landlords and managers of residential units constructed prior to 1978 to fit their tenants with this disclosure document. Must be signed by every mentioned tenant in the rental contract.
Security Deposit Receipt (§ 42-50) – If the landlord elects to obtain a security deposit from the tenant, they will be obligated, within thirty (30) days of receiving, to provide the name and address of the financial institution where it's being held. Furthermore, it must be located in a trust account in a licensed financial institution located in North Carolina. As an alternative, the landlord may furnish a bond for the security deposit amount from an insurance company licensed to conduct business in the State.
Security Deposits
Maximum Amount (§ 42-51) – The landlord can charge two (2) months' rent for standard leases longer than 2 months. For month-to-month tenancies, only one and a half (1.5) months' rent can be requested.
Returning (§ 42-52) – After the tenant has vacated the premises and delivered possession to the landlord they may receive their deposit within thirty (30) days. If there is damage to the premises the landlord may send a notice within the thirty (30) day period suggesting that an additional thirty (30) days is needed to estimate for the repairs.
When is Rent Due? (Grace Period)
There is a five (5) day grace period in North Carolina that prohibits the landlord from charging a late fee if rent is not paid during this period (§ 42-46(a)). If rent is not paid on the sixth (6th) day, the landlord can charge a late fee and start the eviction process by sending the tenant a 10-day notice to quit.
Late Rent
Maximum Penalty (§ 42-46(a)(1))- The landlord can charge a maximum late fee of $15 or 15% of the monthly rent, whichever is greater.
NSF Fee (§ 25-3-506) – If the tenant pays with a bad check, the maximum allowable fee to be charged is $35.
Right to Enter (Landlord)
There are no statutes or laws regarding a landlord's right to enter the property during the tenant's lease term. Although, it is recommended to give the tenant written notice before entering for maintenance or general repairs.
Resources