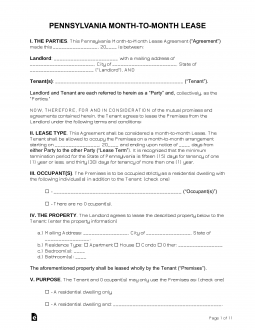 The Pennsylvania Month to Month Lease Agreement is a legal document whereas all forms must be written in accordance with State laws located in the Landlord and Tenant Act of 1951 (Title 68). The tenant(s) and Landlord, with this document agree that the renter may continue occupancy on a premises as long as they wish, provided all of their rent payments are paid on time and the landlord has not provided notice of vacancy. This same document also allows the tenants to  provide 15 days notice to vacate the premises.
Short term leases such as this one provide a flexibility for anyone who is in need of a less complicated, longer term lease expiration. Many renters aren't certain how long they may need to remain in one place and therefore this type of agreement offers a remedy, creating an easier way for either party to expedite the vacancy.
The tenant(s) must read the entire agreement carefully to be certain that they understand the rules of the lease. If the tenants do not understand the rules, they may wish to seek the services of an attorney to look over the agreement to be certain that the document is clear and the tenants will be able to reside on the premises according to the rules.
Minimum Termination Period – 15 days if a year or under, 30 days if the tenancy has lasted over a year.
Laws – § 250.501
How To Write
Step 1 – Download the document and enter:
The landlord's name
The tenant's name(s)
Date of the document in mm/dd/yyyy format
Step 2 – Premises – Provide the following:
The street address
The name of the City located in the state of Pennsylvania
Step 3 – Lease Term – This lease is written in accordance with Landlord and Tenant Act of 1951 (Title 68). Either the Landlord or Tenant must give the other party a written fifteen (15) day notice to vacate the premises
Provide the date in which the lease shall begin in mm/dd/yyyy format – the lease shall continue until further notice from either party, therefore there is no need for an ending date, except for the notice to vacate
Step 4 – Lease Payments –
Landlord must enter the amount of the rent tenant(s) must pay monthly
Landlord must enter the address where the rent must be delivered by mail or hand delivery
Step 5 – Late Charges –
Enter the date that the rent would be considered late
Enter an amount per day, that the tenant(s) must add to their rent payment payments are current
Enter the day of the month, the tenant(s) will considered in breach of contact
Step 6 – Insufficient Funds –
Landlord must enter an amount that the tenant must pay in the event that a rent check is returned due to the landlords marked as insufficient funds
Step 7 – Security Deposit –
Enter the security deposit amount to be paid at the signing of the document
Tenant(s) must read and agree to the remaining portion of this section
Step 8 – Titled Sections – The tenant(s) must read entirely and agree to, the titled sections of this lease as follows:
Defaults (landlord must enter a number of days from notice of the default, to cure the default)
Quiet Enjoymen
Possession and Surrender of Premises
Use of Premises
Occupants (enter the maximum number of tenant(s) allowed to reside on the premises)
Condition of Premises
Assignment and Sublease
Dangerous Materials
Utilities and Service (landlord must check the boxes of the services they are willing to be responsible for and any additional )
Pets – (Provide a specified amount that must be provided as a Pet deposit)
Alterations and Improvements
Damage to Premises
Maintenance and Repair
Right of Inspection
Holdover
Abandonment
Extended Absences
Security
Severability
Insurance
Binding Effect
Governing Law
Entire Agreement
Notice
Cumulative Rights
Waiver
Indemnification
Legal Fees
Display of Signs
Noise (Enter reasonable hours daily, when furniture delivery is allowable)
Parking (Provide the premises address)
Balconies
Bicyles
Locking of Entrance Doors
Dwelling
Water Leaks
Additional Terms and Conditions (if any)
Step 9 – Signatures – Parties must provide the following
Landlord's Signature
Print Name
AND
Tenant(s) Signature(s)
Print Name(s)