Updated August 08, 2023
A Virginia month-to-month rental agreement, or "tenancy-at-will", is a lease contract that allows a tenant to stay on the property and pay rent until either the landlord or tenant decides to end the tenancy by providing the required notice. There is no end date and only terminates when the landlord or tenant decides to cancel with written notice. The landlord may also change the terms of the lease by providing the same notice (e.g. increasing the rent). The landlord is recommended to follow the same tenant screening process by requiring a rental application.
Laws – Residential Landlord and Tenant Act
Minimum Termination Period (VA Code Ann. § 55.1-1253(A)) – 30 days.
Multiple Leases (§ 55.1-1253(B)) – 60 days are required if a landlord decides not to renew multiple month-to-month leases at a time (20+ leases or 50 percent of the landlord's leases within 30 days, whichever is greater).
Termination
---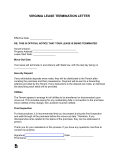 Lease Termination Letter – To cancel a month-to-month lease by sending written notice. Can be used by the landlord or tenant.
Download: PDF, MS Word, OpenDocument