Updated September 12, 2023
Or use ContractsCounsel to hire an attorney!
---
A two (2) weeks notice resignation letter is the most common letter used when notifying an employer of an official resignation. Giving your employer two (2) weeks notice is standard practice as in most cases it provides them enough to find a suitable replacement while ensuring that your position remains filled during the hiring process. You might find that after giving your notice, your employer may request that you leave directly thereafter, thus not allowing you the two (2) weeks to continue working. Therefore, you should be sure that your finances are in order before giving your notice so that you're not in dire straits in the event of a premature departure.
How to Use (4 steps)
Whether the separation is for good or bad reasons, it's best to always remain cordial and polite when resigning from a position. When quitting, the employer may not act in a positive manner. The quitting individual should remain poised and try to offer their services to train any replacement during the notice period.
1. Stay Professional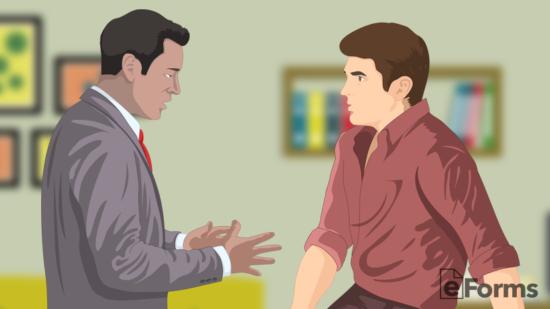 While it might be tempting to gush, settle scores, or otherwise write something informal, the best resignation letters stick to the script. It is fine to express gratitude and share basic details about future plans, but resist the urge to make this letter anything more than a notification of departure.
The Resignation Letter is not an appropriate venue for airing grievances.
4. End on Good Terms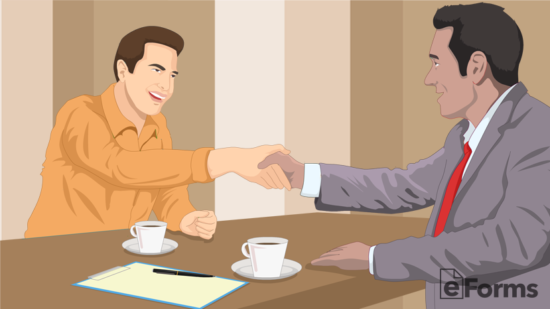 Ending on good terms is both the right thing to do and a good strategic practice. Though leaving is a job is as normal as beginning one – a natural part of the working cycle – it does not have to be tense or fractious. In the best case, current coworkers might serve as future references or professional contacts. It's a small world, so try not to burn any bridges.
How to Write (Format) (3 steps)
For the most part, a two (2) weeks notice resignation letter should be simple and, more importantly, professional. The only thing your employer needs to know officially is when your last date will be. Other than that, you can include some details regarding the reason behind your resignation, so long as you do so in a positive way; when quitting, it's never a good idea bring up any negative sentiments or opinions you may have with your employer which could result in them giving you a bad reference.
Here is how the letter should be formatted:
1. Header
A typical header
for a two (2) weeks notice resignation letter should include your contact information, the date, and the contact information of the addressee.
Example Header

Mike Daniels
91 Johnson Road
Cloverdale, NJ 07003
(555) 555-5555
mikedaniels@email.com

March 2, 2017

Stuart Cohen
Kitchener Manager
Classic Bar & Grill
723 Fairmount Pl.
Cloverdale, NJ 07003

Dear Mr. Cohen,
2. Body
The body of your letter will need to state the final date which you're able to work. Depending on your circumstance, you might also like to include some details regarding the factors that lead to your decision to leave. It is also common, but not required, to thank your employer for the job opportunity so that you leave on a generally positive note.
Example Body 

This letter is meant to serve as notice of my resignation from Classic Bar & Grill, effective March 16, 2017.

Working under your mentorship these past few years has taught me a great deal. I only hope that I can take the same work ethic you've displayed and apply it to my next career opportunity. I appreciate everything that you and the rest of the management team has done for me, it has helped me grow as an employee and as a person.

If there is anything I can do over the next two weeks to make this transition period smoother, please don't hesitate to ask.

Sincerely,

Mike Daniels
3. Delivering the Letter
When delivering your letter, in most cases, you should personally hand it to upper-management. However, certain scenarios may call for an email or mailed resignation letter instead. Regardless of how you end up delivering the letter, you should do it as professionally as possible to ensure a positive reference.
Sample 1
Nancy Jones
545 Mason St.
New York, NY 10012
(555) 555-5555
nancyjones@email.comFebruary 22, 2017
Clare Huxtable
Marketing Manager
Main Images Marketing
999 Lackner Blvd.
New York, NY 10022
Dear Mrs. Huxtable,
I am writing this letter to inform you of my resignation as Marketing Analyst of Main Images Marketing. My last day of employment will be March 7, 2017.
A job opportunity has been presented to me, one that I feel is much more suited to my skill set. I believe it would be in my best interest to pursue this opportunity and take on this new challenge. I appreciate the level of professionalism and consideration you have shown me throughout the years and I would like to thank you for the investment you've made in my professional career.
If there is any way I can assist in the effort of finding a fitting replacement, or if you have any questions, feel free to contact me.
Regards,
Nancy Jones
Sample 2
Roger Michaels
555 Main Street
Boston, MA 01059
(123) 123-1234
rogermichaels@email.comDecember 1, 2017
Aeisha Edwards
Owner
Cafe Chic
321 Machester Blvd.
Boston, MA 01055
Dear Ms. Edwards,
I am writing to announce my resignation as Barista of Cafe Chic, effective two weeks from today (December 14, 2017).
It has been quite an experience getting to know yourself and the other baristas at Cafe Chic. However, I have taken a management position at a newly opened restaurant downtown. This new position will allow me to further develop my skills in the field as well as provide myself with more financial stability.
I know this notice comes at an inopportune time as the holidays draw near. That's why I want to offer my services in any way possible over the next two weeks to not only find a replacement, but also to make sure the Cafe runs as smoothly as possible while I make my transition out. Feel free to schedule me for more hours if needed, or less if the situation calls for it.
Thank you for the employment opportunity. Please give my best wishes to the rest of the staff.
Yours truly,
Roger Michaels
Sample 3
Harry Smith
343 Caraway St.
Mobile, AL 36525
(321) 555-1234
harrysmith@email.comNovember 1, 2017
Donald Frans
Supervisor
King Street Automotive
123 King St.
Mobile, AL 36522
Dear Mr. Frans,
As you know, I have been attempting to find a position in the field with working hours that allow me to spend more time with my wife and our newly born son. Consequently, I have taken a position at Mobile Muffler and therefore will be resigning from King Street Automotive as of November 14, 2017.
This hasn't been an easy decision. Working at King Street Automotive has been a rewarding experience that has filled me with a sense of pride and accomplishment. I will always be grateful for the opportunity you've given me and I wish you and the rest of the team nothing but the best.
Should you ever have any questions, or if there is any way I can assist you in finding a replacement, don't hesitate to give me a call.
Regards,
Harry Smith
How to Write (Step-by-Step)
Download: PDF, Microsoft Word, Open Document Text
1 – Save Your Copy Of The Resignation Template From This Page
The resignation form letter you can obtain is accessible through the buttons or the links on this site. When you are ready to download a copy, direct your attention to the image on this page then select the file version editable with your software.
2 – Document Each Party's Identity And Location In The Header
The opening of this correspondence will need you to self-identify as the Sender. Find the word "From" then, input your full name on the corresponding empty line. 


Two "Address" lines have been supplied so that you can present your mailing address in the standard two-line format.  


After documenting your mailing address, proceed to the two lines below to display your "Phone" and "E-Mail" information as well.  

Now that you have named yourself as the Sender, take a moment and date this letter. The "Date" line provided will readily accept the filing date you wish associated with this letter. The date you supply here must be at least two weeks before the last date of your employment.   

Notice the label "To." Use the line attached to this label to document the full name of the intended Recipient. This is the person who must receive your resignation so make certain it is being addressed through the proper channels. You will also have two "Address" lines that should be satisfied with the Recipient's mailing address.   

The last two spaces in this header will request the current telephone number and email address of the intended Recipient on the lines labeled with "Phone" and "E-Mail" (respectively)."   

3 – Supplement The Resignation Language With Specific Details
The body of this letter will need to be addressed to a specific entity, thus enter the name of the individual who must receive this resignation on the blank space after the word "Dear."     

The wording used for this resignation will present all the standard information and conditions that would apply in most situations. The first sentence, however, will need some information that will serve to attach this language to the situation you are addressing. Use the first empty line in this statement to record the "…Title Of" the position you currently hold and intend to resign from.   


The legal name of the company that you will terminate your employment with must be produced on the second blank space of this sentence 

An important convenience that you should provide the Recipient of this letter is the exact date of your termination. The last three empty lines have been reserved for the two-digit day of the month, the name of the month, and the two-digit year of the last day you will work for the employer you named above. Bear in mind this must be at least two weeks from the calendar date that you believe your Employer will receive this letter.   

4 – Your Resignation Must Be Executed By Signature
Review the information you produced in this template. If it is correct, sign your name on the line labeled "Signature" at the bottom of this page. 

Finally, print your full name on the last blank line.