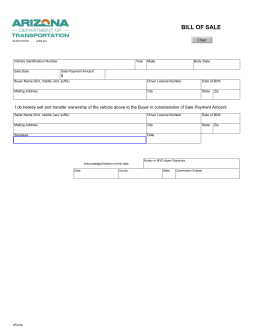 4.8 Stars | 93 Ratings
1,775 Downloads
Updated August 14, 2023
An Arizona bill of sale allows for the ownership transfer of personal property. The document should include the identification of both parties (buyer and seller), purchase price, description of property, and the signature of a notary public (for vehicle transfers).
Forms (4)
Vehicle Registration Forms
Sold Notice (Form 46-8502) – Must be completed and sent to the state within 10 days of a sale;
Proof of car insurance that meets Arizona's coverage requirements,[1] which are:

$25,000 bodily injury liability for one person and $50,000 for two or more persons; and
$15,000 property damage liability;

If you reside or will reside in Phoenix or Tucson, an emissions test must be performed at one of Arizona's Emissions Testing Locations;
Proof of identification;
If an agent is going to be representing the owner of the vehicle, a Vehicle Power of Attorney must be signed; and
Registration fees.[2]
Boat Registration Forms
In the state of Arizona, no motorized vehicle may be used legally on any body of water without registration. Non-motorized boats — such as any boat powered by sail or paddle — do not require registration. It would be best to register a motorized boat as soon as you are able to gather all of the appropriate documentation. The following documents are required to be taken in person to a Local Arizona Fish & Game Agency:
If the boat is new: The Manufacturer's Statement of Origin;
If the boat is used: The most current signed registration slip from the previous owner indicating their release of the vessel;
Proof of identification; and
Registration fees.[3]
Sources