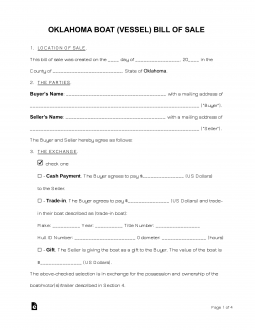 An Oklahoma Boat Bill of Sale is a legal document that records the transfer of ownership of a vessel. A bill of sale will include the identity of the buyer and the seller, a description of the boat, and the terms of the exchange. This form may be useful for tax purposes but does not need to be notarized.
Table of Contents
Registering a Boat
Almost all boats used or capable of being used for transportation on Oklahoma waters must be registered with the Oklahoma Tax Commission. (Exceptions include self-propelled watercraft like canoes and kayaks.) Buyers must apply for title and registration within thirty (30) days of purchasing a boat. The boat's initial registration period will end on June 30, then run each year, for a year, beginning on July 1. Renewals may be done online, with the state's OKCars system, or by mail, by responding to the postcards that are sent to registrants annually as a reminder when the deadline approaches.
Where to Register
Registration and titling may be done in person at a state-authorized tag agent, or at an office of the tax commission's Motor Vehicle Division.
Required Documents
If the boat was previously titled in Oklahoma, a Boat or Outboard Motor Serial Number Confirmation (Form BM-10), completed by the seller
If the boat was previously titled in another state, the out-of-state title, and proof of inspection by an Oklahoma tag agent, and
If the boat was purchased new from a dealer, a manufacturer's statement of origin (MSO) if the boat has been purchased new
Payment of excise tax, titling fee, registration fee, and, if applicable, other miscellaneous fees