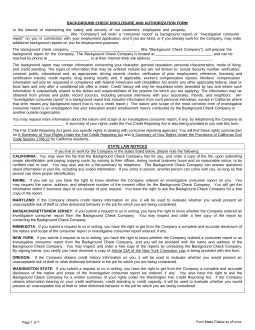 4.7 Stars | 61 Ratings
1,627 Downloads
Updated May 31, 2022
A criminal background check authorization form gives an employer, landlord, or any requesting third party information about whether an individual is a lawbreaker, felon, former convict, or whether they have any illegal activity in their past. With the signature of the releasor he or she gives their full consent to hold harmless the releasee any information that is found under the background check.
Disclosures
California – Civil Code 1786.22 is required to be handed out to all releasors residing or employed in California.
New York – Article 23A is required to be handed out to all releasors residing or employed in New York.
Fair Housing Act (Summary Guide) – Federal law to be given to all releasors.
Required to Give a Copy – In the States of California, Minnesota or Oklahoma the releasor is entitled to a free copy of their background check that is pulled.
How to Get a Criminal Background Check
Step 1 – Get Authorization
You must collect the releasing party's personal details along with their signature stating that they release you from viewing and obtaining their criminal history report.
The releasor will be required to enter the following information in order to process the report:
Full Name – First and Last Name
Date of Birth
Last 4 Digits of Social Security Number (SSN)
Driver's License Number – Including State
Address(es) – The Last 7 Years
Step 2 – Select a Background Check Service
There are no "free" background checks, unfortunately. There are two (2) ways to run a background check:
Through the State – Every State allows Companies seeking new employees to view official criminal history. The Company will usually have to create an account and verify their entity status with the Secretary of State along with a small fee. This is the most affordable option as the State is always less expensive than 3rd party services.
Through a 3rd Party – If a Company would like to immediately obtain the criminal history of an individual they can use services like HireRight.com or GoodHire.com. The costs range from $30 to $90 depending on how thorough a lookup the Company is seeking.
Step 3 – Decide to Hire
Hiring the Candidate – If you decide on hiring the individual then a salary or payment per hour ($/Hour) should be discussed sooner than later. After negotiating the terms of an employment the employee should submit their banking information through a Direct Deposit Authorization Form.
Rejecting the Candidate – If the candidate has been rejected from the position you may be able to inform them by telephone or by issuing a written statement through a Rejection Letter that states the reasoning for the denial.