Updated June 23, 2023
A debt forgiveness letter informs a debtor that they no longer have to repay the creditor for money owed or other liabilities. This letter is usually sent after the creditor has decided that either it isn't worth posting the debt to collections or they may benefit just as well from accounting for the receivable as a loss on their tax return. Either way, the individual that receives the form will no longer be subject to pay the collection.
Sample
DEBT FORGIVENESS LETTER
[SENDER ADDRESS]
Date [DATE]
Dear [RECIPIENT'S NAME],
Our firm has contacted you in the past about your debt in the amount of $[AMOUNT] for [DESCRIPTION]. Due to extenuating circumstances combined with the amount of the debt you owe, we have taken it upon ourselves to completely relieve you of this debt.
YOUR DEBT HAS BEEN FORGIVEN IN-FULL.
As we have cancelled your debt, please accept our letters in the future when we attempt to collect a debt. Thank you for being a loyal customer of ours.
Sincerely,
[SENDER NAME]
How to Write
1 – Download This Letter Template Then Fill In The Requested Information
Three buttons have been supplied on this page allowing for this document to be downloaded as an PDF, Microsoft Word (.docx), or Open Document Text (.odt) file. Generally, it is a good idea to choose a file you can open and edit so that information can be entered on-screen. In the absence of such a program, an up-to-date browser will open the PDF version nicely so that you may review and print it. Regardless of the file type or your system's available software, it is considered wise to save a copy to your machine. Open this file at your convenience then fill it out.
2 – The Header And Opener Of This Letter Must Have Applicable Information Provided
The first area of this document requiring attention will be the Header. Here, the Full Name and Address of the Sender should be documented the same way it would appear on an envelope (with the Sender's Name on the first line and the Address presented on the two lines below this.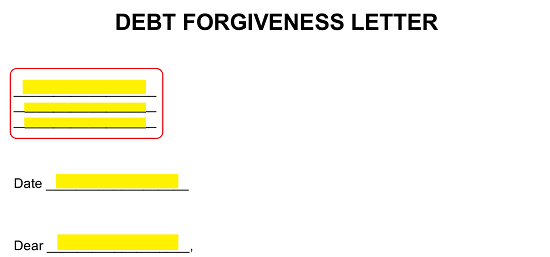 Next, record the Date this letter is executed on the blank line bearing the label "Date."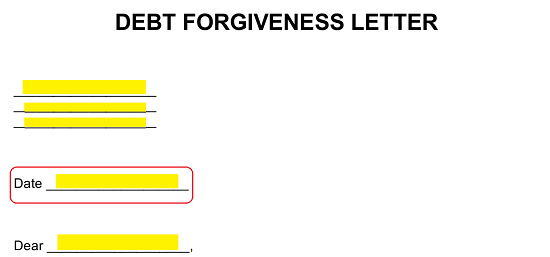 Finally, open the letter by supplying the Recipient's Full Name to the blank line following the word "Dear"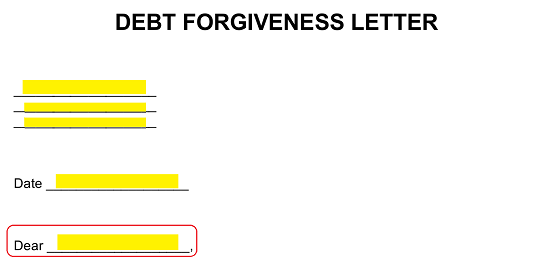 3 – Supply Some Basic Facts To The Language Presented
This letter has supplied the wording that needs to be employed for the purpose of forgiving a debt. It will need some basic information. Record the Debt Amount being forgiven on the blank line after the dollar sign.

Next, state why this money was owed on the second blank line (i.e. loan, accident, etc.)

4 – This Letter Will Need A Closing Signature
In order to successfully close this letter, the Sender must sign his or her Name on the blank line under the word "Sincerely."