Updated September 19, 2023
Alabama deed forms allow for a buyer and seller to transfer the interest of ownership in real estate and convey the property. The type of deed depends on the situation and the title of the property. All deeds filed in Alabama must be met with the Grantor(s) signing in front of a notary public or one (1) witness along with the Real Estate Sales Validation (Form RT-1) to be completed when filing with the Probate County Judge's Office.
Laws – Title 35 (Property), Chapter 4 – Conveyances and Creation of Estates[1]
Validation (§ 40-22-1) – Real Estate Sales Validation (Form RT-1) is required to be completed and filed along with every deed.
Recording – All deeds must be recorded in the office of the County Probate Judge.[2]
Signing – A Grantor who is able to write their name must complete and sign this form in the presence of either one (1) witness or a notary public. If the Grantor is unable to write their own name or refuses to do so, then the execution must be attested by two (2) witnesses or a notary public. Upon recording, county recorders may request the deed be acknowledged or witnessed by two (2) individuals. It is always recommended to contact the county recorder's office where the property is located to confirm local requirements.[3]
Deed Types (3)
---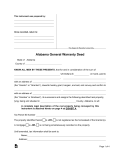 General Warranty – Widely used for purchase and sale agreements for a standard real estate transfer.
Download: PDF, MS Word, Open Document
---
Quit Claim – Widely used when the owner of the property is known and the transfer occurs with no guarantee to the title of the current or previous owners.
Download: PDF, MS Word, Open Document
---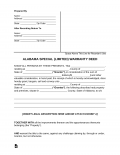 Special Warranty – Transfers title with limited liability.
Download: PDF, MS Word, Open Document
---
 Alabama Property Search
Step 1 – Go to the Alabama Department of Revenue's county offices page and select the county where the property is located (for these instructions, we chose Baldwin County).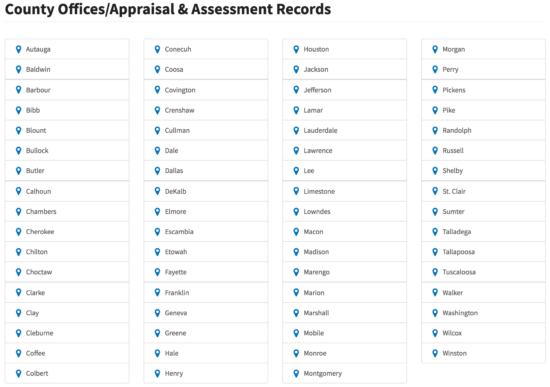 Step 2 – After selecting your county, you are automatically shown the county's contact information (seen below). Select "Visit Baldwin County's Online Record Search" to proceed.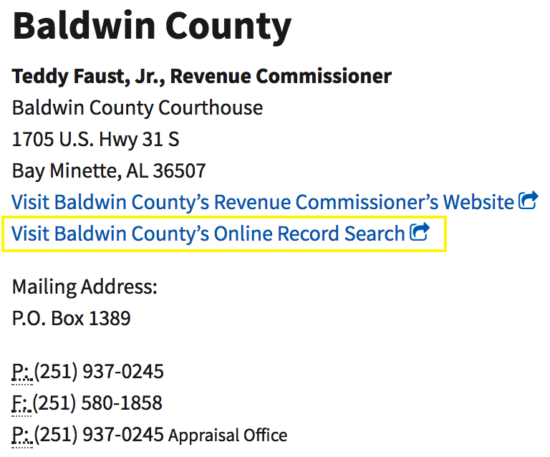 Step 3 – This page contains a number of search options. From the list of available options, select "Deeds & Records".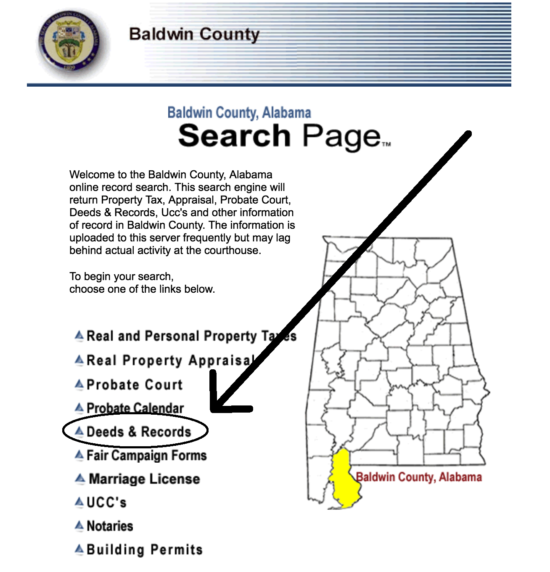 Step 4 – At this juncture, you are able to make your query and search by any of the following routes:
Grantor or Grantee Name (Last, First);
Partial Name Search;
Book/Page/Extension Number;
Section/Township/Date Range;
Subdivision; or
Instrument Number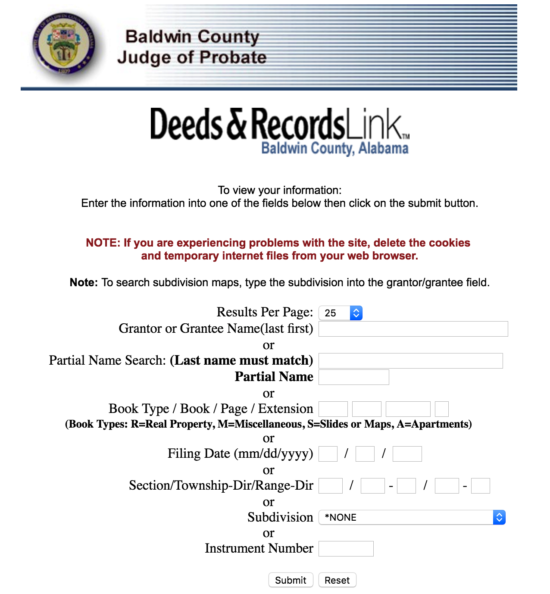 Step 5 – View your results and select the one that matches your query by clicking on the blue link under the "Name" heading.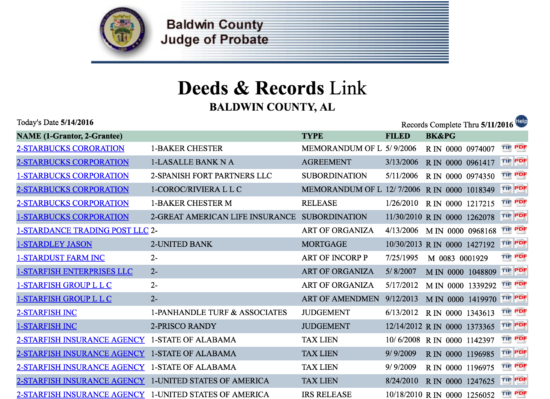 Step 6 – Now you may view all the information about the real property, which includes the following: Date filed, Instrument Date, Book and Page, Instrument Number, Value, Mineral Acres, Lots, Grantor, Title Agency (Filed by), Grantee, Remarks, and any attached descriptions.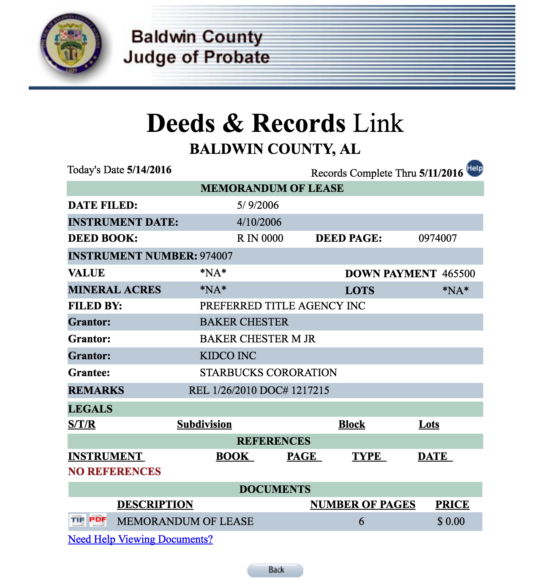 Sources