Updated July 12, 2022
A Missouri deed is a form used to transfer real estate in Missouri from one person to another. There are different deeds depending on your situation and circumstances. Some deeds come with a type of guarantee as to title. A quitclaim comes with no guarantee. The best way to make sure that you have a clear title is to have a thorough property search completed prior to the closing on the real estate. If completed properly, you will be able to find out if there are any hidden transfer or other encumbrances to the property. Once the deed is executed and notarized, it is filed with the respective County Recorder of Deeds.
Laws – Chapter 442. Titles and Conveyance of Real Estate and RSMO 59.310 as it pertains to details on the formatting of deeds.
Recording (V.A.M.S. 442.400) – County Recorder of Deeds
Signing (V.A.M.S. 442.130) – A notary public is required to view the signature(s) of the Grantor(s) on any deed to be filed within the State of Missouri.
Deed Types
General Warranty – A general warranty conveys property from a grantor (seller) to a grantee (buyer) with a guarantee from the seller that the property has a clean title and the grantor has all requisite authority to sell the property.
Quit Claim – A quitclaim deed can also be used to transfer property in Missouri. However, this type of deed just transfers whatever interest a person may have in the property with no guarantee as to what that interest might be.
Special Warranty – A special warranty, is like a general warranty, however, the guarantee it provides is limited to claims that may arise from the grantor's ownership.
Missouri Property Search
In Missouri, each county has a recorder of deeds that maintains the land records in the county. You can go directly to the office to go through the records related to the property you wish to purchase. In the alternative, some counties have online search capability. In order to find out information about the land records in your county, you can go to This Website to find county recorder information. The following is an example of how to begin a search in St. Louis County. Other counties may be different, however, in all cases, you will need to at least have the grantor's name to begin the search.
Step 1 – First go to the County Recorder of Deeds site and look for a reference to searching land records.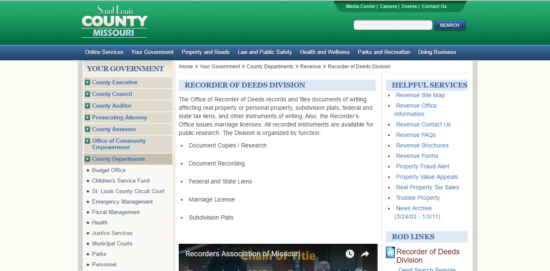 Step 2 – Click on the search link and you will be brought to This Page: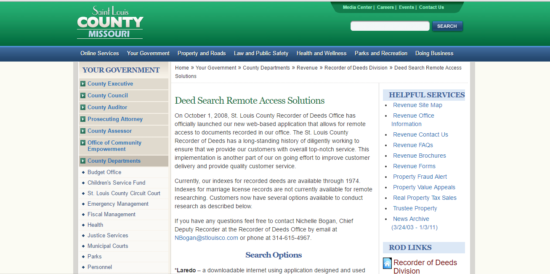 Step 3 – There are a number of different search options in St. Louis County. That may or may not be the case in other counties. In St. Louis County, they have searches where you have to become a subscriber and pay a fee. They also have a search where you can find information about deeds, but not actually see the document. The recommended search for non-bulk searches is "tapestry". Click on that link and you will be brought to This Page.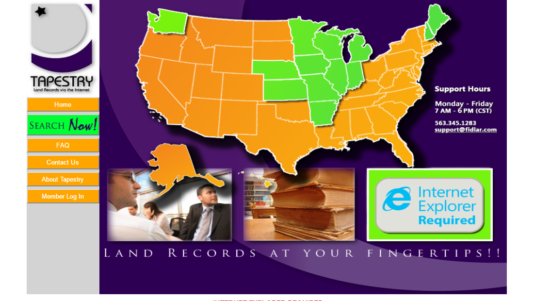 Step 4 – Click on "Search Now" and you can scroll through the counties until you find your county.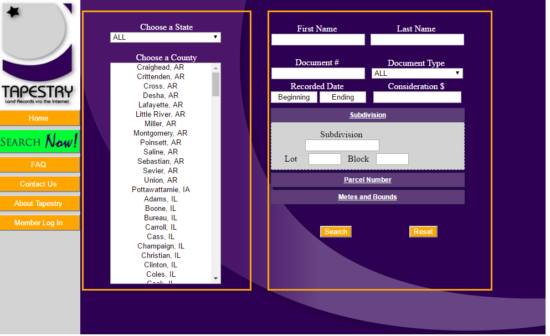 Step 5 – Click on the county and enter the last name of the grantor. You will then have to enter your credit card information in order to see the documents related to your search.