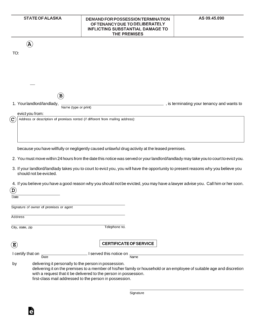 5.0 Stars | 2 Ratings
9 Downloads
Updated July 14, 2023
An Alaska 24-Hour Notice to Quit alerts a tenant that they have purposely or maliciously caused severe damage to their landlord's property. After the form is served to the tenant, the tenant has 24 hours to vacate the property. If the tenant fails to leave the property after 24 hours, the landlord can start the proceedings of a F.E.D. (Forcible Entry and Detainer) court case.
Usually, the landlord must give the tenant a certain time frame to fix the problem in order to not be evicted but in the case of severe damage inflicted by the tenant, it is unlikely the tenant can fix the problem.
Laws – AS §§ 34.03.220(a)(1), 34.03.120(a)(5)
Damages – Damage to premises is considered "substantial" if the loss, destruction, or defacement of property attributable to the deliberate infliction of damage to the premises exceeds $400.